Epiphone G-400
General Information
Weapon: Electric Guitar
Make: Epiphone
Model: G-400
Price: Around 400$/300€ (A bit cheaper online)
Sound
Epiphone G-400 is one of the SG type guitars made by Epiphone, resembling the '62 Gibson SG. It's available in two different colors: Cherry and Ebony, both really nice and classic for this model.

Before we get deep in detail, let's review its basic specifications:
Specifications
Scale 24.75
Nut width 1.68
Mahogany body
Set mahogany neck, 22 frets.
Stopbar Tailpiece
Tune-o-matic bridge.
2x Alnico V humbucker pick-ups. (Bridge is wound hotter)
Chrome hardware.
Rosewood fingerboard with Trapez inlays.
Grover tuners.

The guitar feels solid, and the hardware looks flawless out of the box. It won't get dirty as time goes by, as Chrome is actually a pretty good choice of metal even though the guitar is quite inexpensive.

The neck is fast with its 60s thin profile, and the action can be set pretty low without buzzing, not shred ultra-low, but enough to be comfortable for the average guitar player. A closer look at the beautiful mahogany neck reveals that it's made from two separate pieces of wood, perfectly matched to fit.

The trapezoid inlays are nice and they did a great job inserting them, not a single drop of glue to be seen anywhere! The frets are also smooth at the edges, and feel good when playing, no string buzzing. Intonation out of the box wasn't but but got much better after a change of strings and some screwdriver work.

The headstock has a beautiful black lacquer cover, with the typical gibson/epiphone crown inlay. Three grover tuners on each side assure that the strings won't go out of tune easily. Grover tuners can only be found on G-400 guitars since a few years ago, in the past the stock tuners were of lower quality.

This is a neck heavy guitar, if you stand holding the guitar with a strap it will be pointing down unless you use a nice leather strap.

The neck is set to the body tightly, seems weak compared to the set neck of a Les Paul, and it actually is weaker, but strong enough to stand normal use and wear of the guitar. That's the price to pay for the double cut-away design that made the SG famous ever since 1961.

One of the greatest features of the SG design is the awesome access it provides to the upper frets, few guitars in the world are so easily playable in that area. The neck has 22 frets, which may be a drawback for the players who crave full 2 octaves in each string using 24 frets.

Last thing that should be mentioned about the neck is that the nut is made of some kind of cheap plastic, something spected given the price of the guitar. Not that it has given any problems so far though.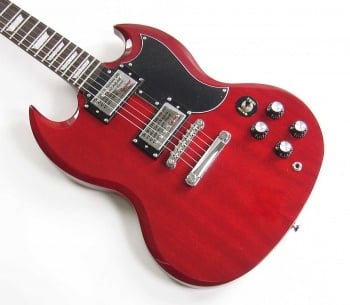 The body is just beautiful. With its 2 pointed horns at each side it's almost simmetrical design was an instant classic since the first SG was ever invented. The guitar finish is perfect. Not a single scratch, the Cherry paint and polyurethane finish lets the wood grain through and is just lovely.

Sadly the mahogany body is not one piece, but two pieces glued together. Epiphone did a great job putting them together though, you really need to look hard to actually find the line where they are joined. Again something to expect from cheap guitars.

The tuning system is the classic Gibson patent Tune-o-matic bridge + Stopbar piece, all Chrome, easy to get a nice intonation and comfortable to play. Does its job pretty well, and seems sturdy. The wholes are neatly drilled into the guitars body without a single scratch around the poly finish. This guitar is certainly built pretty well for it's price.

The pickups aren't the greatest around, but they are not bad either. Alnico V humbuckers are really silent pickups. The neck provides warm sounds and the bridge, wound slightly hotter, delivers awesome high gain distorted sounds that are pure rock and roll. The guitar is pure rock and roll.

As usual with SG models it has separate volume and tone controls for each pickup. That provides a wide range of tones from mellow to soaring leads, specially when using the middle selector position using both pickups and tweaking each one separately. Some may argue that the pickup selector is not in a comfortable place but it's a matter of taste.

The guitar has a powerful sound, a bit brighter than that of Les pauls, with lots of mids and highs. Sustain is pretty good too. The SG excells at rock n roll, but is also quite versatile and can play some nice blues or alternative stuff. Might fall a bit short for heavy shredders though.

Feel
This guitar feels so good. Really.

Probably the best feature of SGs is how good they feel in your hands, with their slim contoured body, the double cut away, all frets at your command, with a fast neck and no extras, this guitar is pure style that begs for you to crank the amp, play a power chord and riff some rock n roll. You can understand why so many great guitarists have chosen it as their main weapon after just a few licks.

One more thing that really helps the new G-400 models shine is the stock Grover tuners, which work pretty well. No matter how much you bend those strings, they just don't go out of tune. In the past G-400s had generic Epiphone tuners that were one of the major flaws in this model. Knowing that anytime you grab your axe it will be perfectly tuned is important, and G400 won't dissapoint.

There's just the ocassional string that gets stucked a bit when tuning, making a "ping" sound, but it happens rarely and is not the tuners fault, but the plastic stock nut. It's easy to solve if you put some graphite in the nut (from a pencil) while changing strings. No big deal at all.

One thing that takes some time getting used to is the heavy neck, that makes the headstock point down when you aren't holding the guitar. A broad leather strap helps though. Straplock buttons are fine, but the one near the neck is actually in the back of the guitar, so locking buttons are really useful.

Cons
- Neck heavy, even more than Gibson SGs, can be annoying to some.
- 22 frets may be too few sometimes.
- No whammy bar.
- Fragile headstock/set neck. Shouldn't be a problem if you take care of your stuff though!

Overall Impression
Worth each buck. Unbelievable quality/price ratio, this guitar is probably as good as it gets for a cheap rocking guitar. Flawless finish, good action and intonation, solid hardware, solid tuners, versatile pickups which are not noisy at all.

Had they included the neck binding of the Gibson SG models, this guitar would have been gorgeous. But that would also increase the price.

Each guitar is different though, so if you are thinking of getting a G-400 it's always recommended to take a trip to your local shop and try the guitar yourself.

Sustain in this guitar is quite good, but there can always be differences depending on each piece of wood or how well the bridge is mounted. Also there are sometimes big differences in the overall finish quality of the product. This happens with all brands, but the chance of getting a defective product is somewhat higher when buying a cheap guitar than an expensive one. Trying different Epi SGs in shops you can notice how sone of them have a better tone or a better finish in the fretboard and inlays than others. Better check out all these details in person if possible.

To sum up: I guess you just can't ask more given the price tag. Feels so good and sounds so great, this guitar is perfect for anyone who seeks a quality SG copy.

Alternative Weapon
In this price range there are some nice LP models from Epiphone, Squier Strats would be good too. But they are quite different guitars. There are some other SG models from Epiphone to check out, such as the Tony Iommi and the new Prophecy series, which look awesome, though they are a bit more expensive.


Originally by Fran
Edit by jesse. This has been my main guitar for 2 years. It's awesome for rock and blues. And there also is a Emily the Strange version!