Green Day 21st Century Breakdown Album Review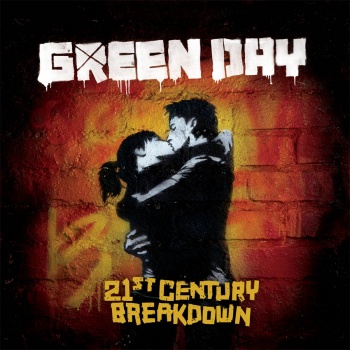 General Information
Original Author: Gitarrero
Artist: Green Day
Album: 21st Century Breakdown
Genre: Punk Rock
Tracklist
01. Song Of The Century
02. 21st Century Breakdown
03. Know Your Enemy
04. Viva La Gloria!
05. Before The Lobotomy
06. Christians Inferno
07. Last Night On Earth
08. East Jesus Nowhere
09. Peacemaker
10. Last Of The American Girls
11. Murder City
12. Viva La Gloria? (Little Girl)
13. Restless Heart Syndrome
14. Horseshoes And Handgrenades
15. The Static Age
16. 21 Guns
17. American Eulogy (Mass Hysteria / Modern Age)
18. See The Light

Sound
For those of you who only know Green Days work before 2004 (when American Ididot cam out), you'll be surprised how fat and powerful their sound has become. But it still stays 100% Green Day, they are one of the bands who have a unique sound you can recognizw out of a thousand bands. It really pays off that they have a second guitar player now. On this album, quite a few songs start with a piano, then they speed up, slow down again. It really shows the band's versatility. The drums are powerful as always, Tré Cool is just a great drummer with so much energy. Best example for this drum sound is the first single Know Your Enemy. So, the sound may not be as "dirty" as it was on Dookie, but consider this record more as a Rock Album, not a Punk Album.
Guitarwork
As mentioned above, they have a second guitar player on their album now (Jason White, he used to tour with the band since 1999 and already played on the American Idiot album) which really boosts their sound and creates some interesting guitar parts. A typical example is the beginning of Know Your Enemy: the song starts with a riff played by one guitar (with a rather crunchy sound, not too much distortion) and the drums until finally the second guitar (with more distortion) and the bass kick in, thus turning the power of the song up. There are also some songs that feature an acoustic guitar, like Peacemaker and the great 21 Guns, which also has a beautiful guitar solo. The band uses different guitar sounds on this album, which makes it a really interesting record for guitarists. The best thing is, the songs are not too difficult, so even beginners can play along to some songs once the've mastered powerchords.
Lyrics
As well as American Idiot, 21st Century Breakdown is a concept album, though the execution of the theme is not as great as in the legendary 2004 record.
The two protagonists Christian and Glory are trying to make their way through the beginning of the 21st century. Their feelings like hope, hopelessness, love, anger are expressed in the songs, but they also critize mass media, cororations, the (U.S.) government. A few lyrics I really enjoyed are from the beginning of the song 21st Century Breakdown:

Born into Nixon I was raised in hell.
A welfare child where the Teamsters dwelled.
The last one born and the the first one to run.
My town was blind from refinery sun.


My generation is zero I never made it As a working class hero

21st century breakdown
I was once lost but never was found
I think I am losing what's left of my mind
To the 20th century deadline.


I was made of posion and blood
Condemnation is what I understood
Videogames of the tower's fall
Homeland security could kill us all


And the great song 21 Guns:
Do you know what's worth fighting for,
When it's not worth dying for?
Does it take your breath away
And you feel yourself suffocating?
Does the pain weigh out the pride?
And you look for a place to hide?
Did someone break your heart inside?
You're in ruins

One, 21 guns
Lay down your arms
Give up the fight
One, 21 guns
Throw up your arms into the sky,
You and I


When you're at the end of the road
And you lost all sense of control
And your thoughts have taken their toll
When your mind breaks the spirit of your soul
Your faith walks on broken glass
And the hangover doesn't pass
Nothing's ever built to last
You're in ruins.


One, 21 guns
Lay down your arms
Give up the fight
One, 21 guns
Throw up your arms into the sky,
You and I


Did you try to live on your own
When you burned down the house and home?
Did you stand too close to the fire?
Like a liar looking for forgiveness from a stone


When it's time to live and let die
And you can't get another try
Something inside this heart has died
You're in ruins.

Overall impression
Once again a great album by Green Day with catchy guitar riffs, lots of memorable melodies, powerful rock songs, soulful ballads and some great lyrics. It is not as good as American Idiot, but it's very close.