Guitar Grimoire Review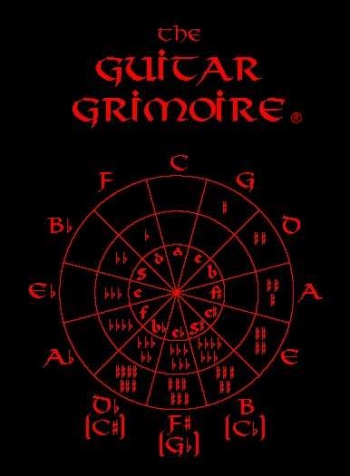 Information
Original author: Understudy
Weapon: Book review!

This is a brief review of The Guitar Grimoire Scales and Modes book. For anyone just starting out or intermediate skill level this book will open new doors. For the experienced musician it will give tools to add to your playing and expand your musical vocabulary.
A complete compendium of scales with 7 box diagrams ( 5 box diagrams for pentatonic ) for each scale. Each scale also has a complete fretboard diagram for each individual scale.
The author uses a numerical system in an layered box diagram to display intervals for each scale, in each mode. Along with a chart for each scale to assist in figuring out what chords to play over it.
With each scale the author has listed (in box form) either 7 or 10 sweep patterns.
A chord chart, so you can do the math and figure out how chords are made.
Keyboard patterns for scales and modes
Guitar interval maps for all keys
If you are in the same position as I am, wanting to master the fretboard, having a large arsenal of scales under your belt, and having an understanding of the modes, and the knowlegde of being able to shred in any scale in any key, anywhere on the fretboard, than this book is a MUST have !
Thanks for turning me on to this book Andrew ! It truely is an amazing tool.
For anyone that does not have this book, I hope this gives a little insight on what it has to offer to your playing and skill level.
Regards, Ronnie