IK Multimedia Amplitube 2.1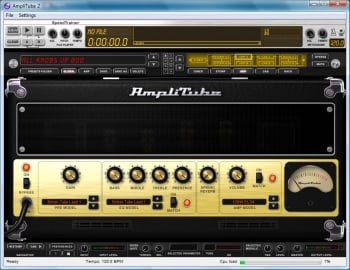 General Information
Original Author: Staffay
Weapon: Amp simulator
Make: IK Multimedia
Model: Amplitube 2.1
Price: $399.99 / €299.99
Product description
IK Multimedias Amplitube has been around for quite a while, and was one of the first computer-based amp simulators. The user interface is very intuitive, and is made to look and work as a real guitar player's setup. Included are a metronome, tuner and a "speed trainer", which simply works as a MP3/Wav player where You can adjust the speed without detuning the song.
Basically there is four sections that make up a sound:
Stomp - pedal simulators
Amp - amp simulators
Cab - Cabinet simulators
Rack - different rack effects, such as reverb, delay, chorus etc.

In addition to this there are two "chains" of the above, that can be run simoultaneously. E.g. You can mix two totally different sound into one - or mix two slightly different sound to get it even beefier.
The software comes with 13 different amp types, most of them based on Fender/Marshall but also solid-state and other tube amps are featured.
The stomp section has simulations of delays, four different types of distorsion, auto-wah's, filter, eq and a lot more. Nothing seems to be left out here.
For the Cabinet section there are 16 different speaker configurations and 6 different microphone types, whose distance, angle and ambience can be adjusted.
The Rack section is intended for the final touch of the sound and contains Reverbs and delays as well as EQ, rotary speakers & more.
The installation of the software is easy, and You get into its functions very fast due to its logical setup, which it is the best I've seen so far. It works both with VST-hosts and RTAS-hosts (Pro Tools) as well as a standalone product.

In addition to using it only for recording/practising IK Multimedia offers hardware to control the software for live usage. These features were not tested, since I didn't have access to the hardware when this was written.
What is a little bit confusing, is that IK Multimedia has a broad range of guitar simulators and also different hardware that supports the software. So if You buy Amplitube original, you have a discount on the other products and vice versa, but there is no single product that contains it all. To confuse things even more they manufacture X-Gear, which You must have in order to play Amplitube live. X-Gear also works as an host for all different versions/plugs in the guitar/bass series and in X-Gear different versions can also be combined to accheive even more combinations. In addition to this there are several hardware pieces and bundles that can be purchased. In my opinion, this is too messy and just makes the customer confused.
Sound
As stated before in this serie of reviews of computer modelling of amps, the sound is highly dependent of the soundcard in the computer. A dedicated soundcard with ASIO-drivers is a must to use this software. You can get a lot of different sounds out of this software, and most of them is basically good, but in my taste they lack some dynamics and are a little "flat" in dynamic response compared to a real amplifier. Amplitubes main contender, Guitar Rig, might be in the lead when this is written, due to its control room features, but again - that's a matter of taste. I found it a little less CPU-consuming compared to Guitar Rig, but still if You shall use this plugs, a fast processor and loads of RAM is recommended for recording issues. Otherwise the software gives You great opportunities to try out different timbres, sounds, effects & more, but it still makes me wanna visit the local music store to get the original stuff.
Overall Impression
This is a serious and solid product that has a very good interface, and sounds good. What I don't like is the price, which I think is a little bit too high. For the recording musician on the move, this might be able to replace a real amp in some situations and it's a great tool for practising. IK Multimedia has been approved by Fender and is now publishing Fender versions of the software. They also have a Jimi Hendrix version, Metal version and other versions with different prizings, which are all interesting, but these have to be in another review.
Video
Alternative Weapon
Reviews:
NI Guitar Rig 4
SimulAnalog Guitar Suite
Multimedia Amplitube 2.1
Homepages:
- Amplitube
- Guitar Devil
- Digidesign Eleven guitar amp emulator (Pro Tools)
- Powercore Tubifex (requires TC Powercore)
- Waves GTR3
- Vintage Amp Room / [Metal Amp Room] (just the amps, no effects)
- Peavey Revalver
- SimulAnalog Guitar Suite (free!)
- Free Amp 2 (free!)
- Tube Amp Baby (free!)

System Requirements
Power PC based Macintosh® Minimal: 866 MHz G4 processor, 512 MB of RAM, Mac OS X 10.4 or later. Suggested: dual 1.25 GHz G4 or G5 processor, 1 GB of RAM, Mac OS X 10.4 or later. Supported Plug-in formats: AU, VST, RTAS.
Intel based Macintosh® Minimal: 1.5 GHz Intel Core Solo processor, 512 MB of RAM, Mac OS X 10.4.4 or later. Suggested: 1.66 GHz Intel Core Duo processor, 1 GB of RAM, Mac OS X 10.4.4 or later. Supported Plug-in formats: AU, VST, RTAS.
Windows® Minimal: Pentium 1GHz / Athlon XP 1.33 GHz, 512 MB of RAM, Windows XP / Vista or later. Suggested: Pentium 2.4 GHz / Athlon XP 2.4 GHz, 1 GB of RAM, Windows XP / Vista or later. Supported Plug-in formats: VST, RTAS.
See also