Korg Pandora PX4D Review
Information
Original author: Muris Varajic
Weapon: Guitar and Bass Processor

Make: Korg

Model: PX4D

Price: 149 Euros

Specs
-Built-in effects
-Tuner
-Rhythm Section and Metronome
-1/4" mono input and stereo output.
-Pocket size
-3 AAA Batteries or 4.5 volts Adapter

Overview
I was looking for a unit for practicing as my rack gear is too awkward to carry around. A guy in a music shop showed me this small box (though I had tried an earlier version of the model before). I came home,plugged it in and after a few hours of editing I came up with some really cool sounds. It has a bunch of EFXs, modeling amps and speaker cabinets etc. You just plug your headphones in and you can rock until dawn, without annoying the neighbours! The presets are fine and there are lots of different ones and so lots of different possible sounds. But I prefer to edit them - that way I can build up my own library of tones.
Sound
8
I gave it an 8 because I'm a real tube freak and although this small unit is fully digital it still provides great tube sounds: The options are endless,from a warm clean to ultra high gain drives. and there are several guitar/bass amps and cabinets to chose from. I find it cool to combine guitar amps with bass cabinets whilst messing around with EQs. You can't do much with your volume pot here on high gain because the digital does its job, but the tone pot on full is ok. There is also an on board noise reduction unit that kills lots of unwanted noise too. The list of EFXs is Huuugeeee! I've tried all of them and got lost; so now I usually use chorus with a bit of delay and some plate reverb.
Cons
No real tube I should mention one thing here - if you plug it into your real amp using a mono cable into the output jack, you'll get a real rush,and I mean a REAL rush as it'll place the sound in the middle of the picture. For example try a ping-pong delay and chorus and you'll see what I mean - you'll get all the sound in the middle and not just into the right or left chanel. I found that using a Klotz cable solved this problem -
Stereo Klotz jack into the Pandora and one or both mono jacks to amp or a recording device.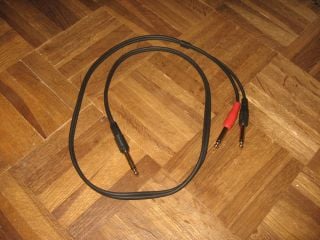 Overall Impression
10
Great unit for very few bucks. Easy to handle and carry, it offers lots, and in my opinion needs very little extra. Just check out my lessons to hear it

And BIG thanks to my editor, Mr. Tony!!
Editorial note: 2007-10-15