Krank Amplification

Krank Amplication
History
Krank Amps are the new kids on the block when it comes to amplifier making. Based out of Arizana USA and formed in 2003 by amp master Tony Dow and business man Jody Dankburg. They promised to produce a no frills all tube amplifier and they deliveried. Krank has a small line of awsome high end products. Keeping their stuff clean and simple, it seems like a step back to most amps now days but for the guys at Krank amps it may be a step forward. Offering great tone no strings attached.
Gear
Amps
The world of Krank gear starts with the Revolution Series of amplifiers.
Revolution Series
Krank Revolution 100watt Tube Guitar Head
Krank Revolution +
Chadwick 50 watt-two Channel Classic Valve Head
Krank Rev Jr
Krank Combo
To kick krank into full gear Krank presents the Krankensien Series
Krankenstein series
Krank Krankenstein 100W Tube Guitar Head( designed by Dimebag Darrel )
Effects
Krank has just rescently begun a line of effect pedals, most notably the Krank Shaft distortion pedal.
Cabinets
The Krank standard cab is a wood frame solidly built for great resonance with 4 12 inch custom voiced Eminence speakers. Metal front pannel and offered in 5 different Tolex colours.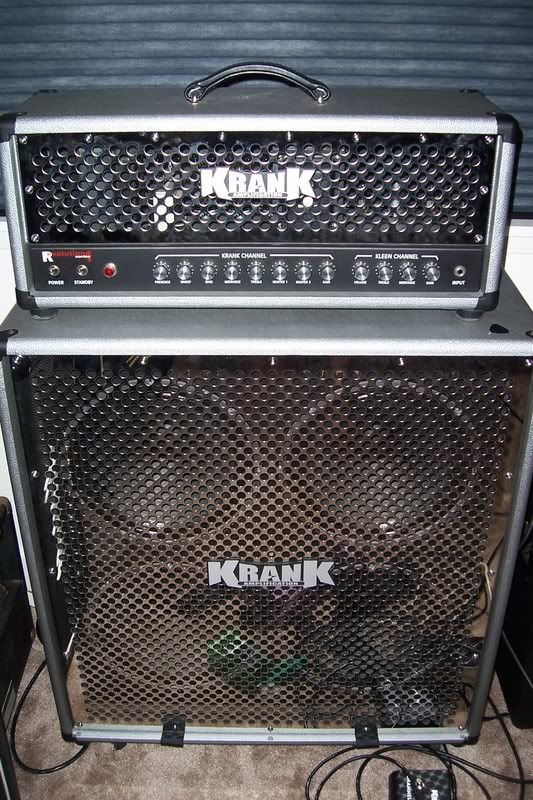 Genres
Krank Amps have made their mark primarily upon metal. With such huge names as Metallica, Shadows Fall, Pantera ( Dimebag ), Amon Amarth, Dethklok, Behemoth, Dream Evil, Firewind and many others its hard to say that this amp does not dominate the high gain areas of music. Krank is a great amp for metal, super tight cleans and distorted tones + warm and full cleans this amp has all around versitility.
Artists
Artists who use krank include
Dime Bag Darrel- Pantera
Jon Donais- Shadows Fall
Matt Bachand - Shadows Fall
James Hetfield - Metallica
Rick Rubin
Joey Floyd- Toby Kieth
Tommy Victor
Pillar
Gwar
Stone Sour
Skwisgaar and Toki - DethKlok
Jeff and Steve- Nevermore
Soil Work
Phil- As I lay dying
Gus G- Firewind
Marcus Henderson- Guitar Hero Video Game
Nergel- Behemoth
Brian and John-Black Dahlia Murder
and many others
GMC Members and Instructors
Members who use Krank Products: Instructors Bold Yours
Smikey2006---
Links
www.Krankamps.com