Lamb of god
Lamb of God
Lamb of God is an American band, playing heavy metal. The band was formed in 1990 in Richmond, Virginia. They officially formed in 1994 and nowadays they're one of the leaders of the New Wave of American Heavy Metal. Randy Blyth is the vocalist, Mark Morton and Willie Adler are guitarists, John Campbell is the bassist and their drummer is Chris Adler. Lamb of God has already released five studio albums, one live album and two DVDs. They also received a Grammy nomination for their album Sacrament.
History
In 1994, Mark Morton, Chris Adler and John Campbell started a band named Burn the Priest. The band members were college friends and already knew eachother. Morton left the band after he go his master's degree and Adler and Campbell replaced him with Abe Spear. For the next five years the band kept practicing in Adler's house and other places near Virginia. In 1995 they released their first demo. They also added Randy Blythe as vocalist to their band. In 1997, Mark Morton returned to the band and the following year they released their first full album with Legion Records. The album was produced the guitarist form Today is the Day and Steve Austin. Spear left the band and a guitar position was open. Adler's brother, Willie Adler, became second guitarist. A year later he joined the band a they got a deal with Prosthetic Records. People didn't like the name Burn the Priest, so they changed it to Lamb of God. With a new name, they released New American Gospen, As the Palaces burn, Ashes of the Wake, Sacrament and Walk With Me In Hell.
Style
Lamb of God was firstly formed as being an instrumental band. After Randy Blythe joined, they no longer were instrumental, but they also had vocals. Lamb of God has been defined in many ways, thrash metal, death metal and hardcore punk hybrid with a strong power groove. This is also why lots of people connect Lamb of God with groove metal band Pantera. Lamb of God concludes typical death metal vocals, with just a few words that can hardly be deciphered. In As the Palaces Burn, the band started using more guitar solos and riffs. And when Sacrament was released it was described as being more technical, especially the vocals. Again the band did more melodic pieces and addes guitar solos. Because of the wide variety of labelled styles, they now call them a metalcore band.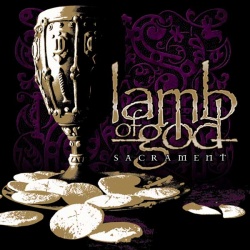 Sacrament
Sacrament is Lamb of God's latest album (anno 2008). It contains the following tracks:
Again We Rise
Beating On Death's Door
Blacken The Cursed Sun
Descending
Foot To The Throat
Forgotten (Lost Angels)
More Time To Kill
Pathetic
Redneck
Requiem
Walk With Me In Hell

Reading some reviews tells the folowing: LoG still has their own LoG sphere in the CD, but it's getting diffrent from earlier albums. They have more shreds and solos by Morton and Adler. Most people see it as a step forward, but others find it sad that they're loosing their old sphere. This album still contains nice riffing and dark atmosphere parts, but also contains quit some melodic pieces. Also people find it sounding more like Pantera then the other albums.
Discography
1999: Burn the Priest (under band name of "Burn the Priest")
2000: New American Gospel
2003: As the Palaces Burn
2004: Ashes of the Wake
2006: Sacrament

Members
Randy Blythe – vocals (1995–present)
Mark Morton – lead and rhythm guitar (1990, 1997–present)
Willie Adler – lead and rhythm guitar (1998–present)
John Campbell – bass guitar (1990–present)
Chris Adler – drums (1990–present)
Abe Spear – guitar (1990–1998)

--Kaznie 11:57, 17 May 2008 (CEST)