Les Paul
Les Paul
People are always surprised when they meet me and get to know that I am NOT a guitar and NOT dead yet...Les Paul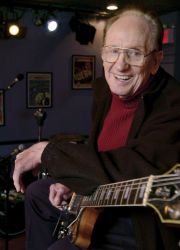 Lester William Polfus (born on June 9,1915 in Waukesha, Wisconsin),better known as Les Paul is an American guitarist. He is known to be one of the most important figures in the development of modern electric guitars and recording techniques. Les Paul is also known as a pioneer in the development of the solid-body electric guitar, Multitrack Recording, and various reverb effects. Most people mistake him with his biggest invention: The Gibson Les Paul solidbody guitar.
Childhood
Paul started his musical career by the age of eight when he learned to play the harmonica. He went on with the piano and the banjo but he abandoned the banjo soon to learn how to play the guitar. At the age of thirteen Les Paul was already good enough to play his first gigs as a Country Music guitarist. He found enough time to become a marvellous Jazz guitarist (His style can be compared to Django Reinhardt) while he was experimenting with electronic parts. He had an obvious talent and dropped out of high school at the age of seventeen to pursue his career in music.
Early Career
He found a job playing guitar in a radio band in St. Louis, Missouri. He later moved to Chicago, where he mainly played jazz music for radio programs. He was able to secure a recording contract and released his first two albums in 1936. In 1938, he moved to New York, where he was given a position on Fred Waring's radio show, "Pennsylvanians". Les found the electric guitars of the time unfulfilling and began experimenting with his own designs in an attempt to improve the instrument.
First Attempt: The Log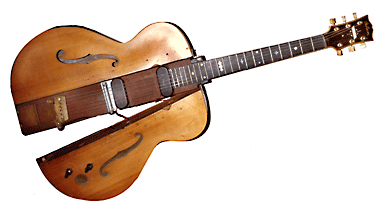 Les Paul is famous for inventing the first solidbody guitar. His first attempt of building a solidbody is called The Log. The guitar was really nothing more than a simple wooden log, taken form a train rail, with an attached guitar neck, a simple hardtail bridge and pickups. Although it looked ugly, Les Paul solved the two biggest problems of 1930's electric guitars: The Feedback and the lack of Sustain. Due to the solid body of The Log it had less problems with the feedback level because it did not resonate as much as the semi-hollow electric guitars of that time. The Log also had a never before heard amount of sustain because the massive body of the guitar stored the energy of the ringing strings. Les Paul afterwards installed sawn-off body parts from an Epiphone Semi-Accoustic guitar for the sake of a better appearance. Despite of it's awkward appearance Les' audiences were impressed by it's sound and volume level.
Career
He moved to Hollywood in 1943, where he was allowed to play with Nat King Cole at the legendary "Jazz at the Philharmonic" show in Los Angeles on July 2, 1944. Also that year, Paul's trio appeared on Bing Crosby's radio show. Crosby went on to sponsor Paul's recording experiments. The two also recorded together several times, including a 1945 number one hit, "It's Been a Long, Long Time." Paul's trio also recorded a few albums of their own in the late 1940s.
In 1948, he was nearly killed in an automobile accident in Oklahoma. He was left with a shattered right arm and elbow, which made him unable to play guitar. He spent over a year recovering, he told the surgeons to set his arm at an angle that would allow him to pick the guitar, although not as easily.
In the 1950s, Les teamed up with his wife Mary Ford on rythm guitar and vocals to make several revolutionary musical recordings. He used the technique of overdubbing, which was made possible by his recording inventions. Together with his wife Les Paul had his biggest musical success and had a number of radio hits like Mockin Bird Hill, Tiger Rag or How High The Moon.
The Gibson Les Paul
Les Paul was the first one to built a solid body guitar so he had beaten his close friend Leo Fender, who was creating his own solidbody guitar at that time (The Famous Fender Stratocaster) and Adolp Rickenbacker, who marketed his solidbody in the 30's. In 1941, Paul had convinced Gibson to manufacture some of his guitar designs. His designs were solid-body with a unique shape.Though Gibson was not satisfied with Les Paul's guitar design. They agreed to built a few guitars from his plans but refused to put the name Gibson on the Headstock. The company was convinced that no one would ever buy Paul's designs and mocked him as The guy with the Broomstick-Guitar.
In 1952 Gibson approached Les Paul again to built his own line of Guitars, the famous Gibson Les Paul. It was a smart decision of the Gibson company because the Les Paul series became their best selling line of Guitars and the worlds most famous electric guitar along with the Fender Stratocaster . The Les Paul design did not change in 50 years, it became an instant classic.
Today Gibson produces more Les Paul models like the Standard, the Custom, the Studio aswell as some Signature Les Pauls for famous artists like Joe Perry, Slash, Zakk Wylde or Jimmy Page. The average Les Paul guitar features a massive mahagony body with a maple top, the neck is also mahagony and the fretboard is made of rosewood. The Guitar has an all arround binding and comes painted or with a flamed finish. The Les Paul series have a single cutaway, 22 medium sized frets and a glued in neck. Most Les Pauls are equipped with two humbucking Pickups and feature 2 vloume and 2 tone knobs aswell as a three-way pickup selector.
Inventions
Les Paul is not only a talented guitar player, he is also a gifted inventor. Besides his revolutionary guitar inventions he developed the first eight track tape recorder.In 1954, his technology was licensed by Ampex to create the first eight track cassette recorder, which became known as the "Sel-Sync". Les immediately saw its potential both for special effects, like echo and flanging. The Selective Synchronization device in which a recording head could simultaneously record a new track and play back previously recorded ones, would allow multi-track recording. The technology of multi-track recording is still used in modern recordings to great effect.
Les invented a whole lot of more or less usefull devices to create delay, reverb or overdubbing for the guitar. The most well known is the Les Paulverizer, which is like an early looping pedal that was attached to the guitar and could store and loop up to ten tracks simultaniusly.
Late Career
His career began to slow down in the 1960s, but he continued working on small projects and designing guitars. In the late 70's Les started a new project with Chet Atkins and recorded the fabulous Country/Jazz LP's Lester and Chester and Guitar Monsters. In 1978, he was inducted in the Rock and Roll Hall of Fame. He continues to perform on occasion and is still experimenting with guitars. The incredible thing about Les Paul is that he still did not retire! Until today the now 94 year old Les Paul plays weekly live performances with his band at the Iridium Jazz Club, on Broadway in New York City, despite the arthritis that has stilled all but two of the fingers on his left hand.
Musical Style
Not many musicians can look back on over 80 years of musical practice like Les Paul can on his guitar playing. Paul is an experienced Country guitarist but he exeeds in his Jazz playing skills. His style is a very fluid and on-the-spot playing with fast single note lines and subtile Country & Western throw-ins. Although Les can not read Music and Notes he is able to arrange his compositions in his head up to the last detail thanks to his well trained ears and strucural thinking ability.
He uses a lot of Delay and Reverb effects in his playing to top off his very technical jazz soloing and prefers a fairly clean tone. His early work consists of country music radio singles.Les Paul's Jazz skills can be heard on his Trio compilations aswell as on the records with his wife, where Les shows that he is also capable of writing catchy Pop-music. In 2004 he even recorded a Rock compilation with famous artists like Keith Richards and Eric Clapton.
Discography
Hit singles
   * "Rumors Are Flying" - Andrews Sisters & Les Paul (1946)
   * "Lover (When You're Near Me)" (1948)
   * "Brazil" (1948)
   * "What Is This Thing Called Love?" (1948)
   * "Nola" (1950)
   * "Goofus" (1950)
   * "Little Rock 69 Getaway" (1950/1951)
   * "Tennessee Waltz" - Les Paul & Mary Ford (1950/1951)
   * "Mockin' Bird Hill" - Les Paul & Mary Ford (1951)
   * "How High The Moon" - Les Paul & Mary Ford (1951)
   * "I Wish I Had Never Seen Sunshine" - Les Paul & Mary Ford (1951)
   * "The World Is Waiting For The Sunrise" - Les Paul & Mary Ford (1951)
   * "Just One More Chance" - Les Paul & Mary Ford (1951)
   * "Jazz Me Blues" (1951)
   * "Josephine" (1951)
   * "Whispering" (1951)
   * "Jingle Bells" (1951/1952)
   * "Tiger Rag" - Les Paul & Mary Ford (1952)
   * "I'm Confessin' (That I Love You)" - Les Paul & Mary Ford (1952)
   * "Carioca" (1952)
   * "In The Good Old Summertime" - Les Paul & Mary Ford (1952)
   * "Smoke Rings" - Les Paul & Mary Ford (1952)
   * "Meet Mister Callaghan" (1952)
   * "Take Me In Your Arms And Hold Me" - Les Paul & Mary Ford (1952)
   * "Lady Of Spain" (1952)
   * "My Baby's Coming Home" - Les Paul & Mary Ford (1952)
   * "Bye Bye Blues" - Les Paul & Mary Ford (1953)
   * "I'm Sitting On Top Of The World" - Les Paul & Mary Ford (1953)
   * "Sleep" (Fred Waring's theme song) (1953)
   * "Vaya Con Dios (May God Be With You)" - Les Paul & Mary Ford (1953)
   * "Johnny (Is The Boy For Me)" - Les Paul & Mary Ford (1953)
   * "Don'cha Hear Them Bells" - Les Paul & Mary Ford (1953)
   * "The Kangaroo" (1953)
   * "I Really Don't Want To Know - Les Paul & Mary Ford (1954)
   * "I'm A Fool To Care - Les Paul & Mary Ford (1954)
   * "Whither Thou Goest - Les Paul & Mary Ford (1954)
   * "Mandolino - Les Paul & Mary Ford (1954)
   * "Hummingbird" - Les Paul & Mary Ford (1955)
   * "Amukiriki (The Lord Willing)" - Les Paul & Mary Ford (1955)
   * "Magic Melody" - Les Paul & Mary Ford (1955)
   * "Texas Lady" - Les Paul & Mary Ford (1956)
   * "Moritat" (Theme from "Three Penny Opera") (1956)
   * "Nuevo Laredo" - Les Paul & Mary Ford (1956)
   * "Cinco Robles (Five Oaks)" - Les Paul & Mary Ford (1957)
   * "Put A Ring On My Finger" - Les Paul & Mary Ford (1958)
   * "Jura (I Swear I Love You)" - Les Paul & Mary Ford (1961)

[edit] Albums
   * Feedback (1944) - compilation
   * Les Paul Trio (1946) - compilation
   * Hawaiian Paradise (1949)
   * The Hit Makers! (1950)
   * The New Sound (1950)
   * Les Paul's New Sound, Volume 2 (1951)
   * Bye Bye Blues! (1952)
   * Gallopin' Guitars (1952) - compilation
   * Les and Mary (1955)
   * Time to Dream (1957)
   * Lover's Luau (1959)
   * The Hits of Les and Mary (1960) - compilation
   * Bouquet of Roses (1962)
   * Warm and Wonderful (1962)
   * Swingin' South (1963)
   * Fabulous Les Paul and Mary Ford (1965)
   * Les Paul Now! (1968)
   * Guitar Tapestry
   * Lover
   * The Guitar Artistry of Les Paul (1971)
   * The World is Still Waiting for the Sunrise (1974) - compilation
   * The Best of Les Paul with Mary Ford (1974) - compilation
   * Chester and Lester (1976) - with Chet Atkins
   * Guitar Monsters (1977) - with Chet Atkins
   * Les Paul and Mary Ford (1978) - compilation
   * Multi Trackin' (1979)
   * All-Time Greatest Hits (1983) - compilation
   * The Very Best of Les Paul with Mary Ford (1983) - compilation
   * Tiger Rag (1984) - compilation
   * Famille Nombreuse (1992) - compilation
   * The World Is Waiting (1992) - compilation
   * The Best of the Capitol Masters: Selections From "The Legend and the Legacy" Box Set (1992) - compilation
   * All-Time Greatest Hits (1992) - compilation
   * Their All-Time Greatest Hits (1995) - compilation
   * Les Paul: The Legend and the Legacy (1996; a four-CD box set chronicling his years with Capitol Records)
   * 16 Most Requested Songs (1996) - compilation
   * The Complete Decca Trios -- Plus (1936-1947) (1997) - compilation
   * California Melodies (2003)
   * Les Paul & Friends: American Made World Played (2005)

--ZakkWylde 00:43, 16 May 2008 (CEST)