Lesson Series: "0 To 60, An Introduction to Alternate Picking" - Lesson 211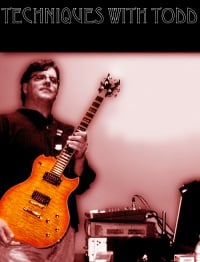 LESSON #211 - Solo Madness Without The Crazy
Lesson Series by Todd Simpson

FINGER YOGA!
Let's do our usual Finger Yoga stretches. Here is a link to the video for references.

OVERLOUD TH1/TH2 PATCH FOR TODAY (Will work in TH1 and TH2)
-Using the MESA cab feeding the SOLDANO cab, killer lead tone!
(Stacking Cabs/IR's is the secret sauce!!)
BACKING TRACK FOR TODAY -Six Demon Backing (This is from my band project. Divinus Mortus Track in progress)

In keeping with our "SUNDAY DAY OF REST" theme, I"m going to try to make todays lesson something for "All Ages/All Skill Levels". Something the new player and the experienced player can both,...well....play.

SOLOING OVER A MAD BACKING
Let's work on some solo licks that one could play over a really busy/intense backing that doesn't have loads of space in. Specifically, the fast bits from the backing we learned during the Saturday Session, Lesson 210.

Here is the FULL VIDEO CHAT LESSON Video Stream in case you missed!