Lesson Series: "0 To 60, An Introduction to Alternate Picking" - Lesson 288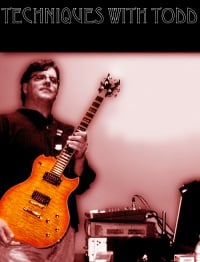 LESSON #288 - Lead Guitar With Backing Part II
Lesson Series by Todd Simpson
BIAS!! PATCH
-I'm on the Beta Test team for the Plugin version of the BIAS amp emulator previously only on iPad/iPhone. So far it's spiff!! Here is a custom preset

It will be released in the wild very soon and you'll already have patches!!
Let's warm up and get going!
FINGER YOGA!

LEAD BITS PART II! (And Some Rythm Bits!)
Last session we worked on some Lead Chops and our picking. Let's continue that and add in the lick that was teased earlier this week!! This one in case you missed it, is on deck for today


FIRST UP!!!
-Let's get loose!!

SECTION 2 : RYTHM BASED LICKS/DRILLS

HERE IS OUR VIDEO CHAT FROM TODAY'S LESSON!!!