Lesson Series: "0 To 60, An Introduction to Alternate Picking" - Lesson 9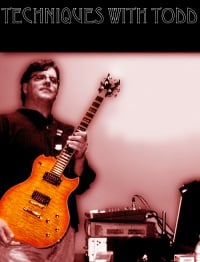 LESSON #9 - Building speed
Lesson Series by Todd Simpson

In this lesson we are going to work on building up our speed. Pure, blinding, blistering speed. We are going to start on a higher string and move to a lower string to help force our hand to alternate pick. If we start on a low string and move to a high string, sometimes the hand wants to "economic pick" or combine strokes such as down strokes. This can be very natural and efficient but it's not our focus yet. So, on to the speed!

We are going to use a familiar shape and do a very, very simple pattern. This is based on lesson #3 actually, we are going to take that shape and reverse it. Again, our focus is speed and precision. Here is the tablature.

WARNING: DO NOT PLAY TO THE POINT OF PAIN YOU WILL HURT YOURSELF PERMANENTLY AND RISK CARPAL TUNNEL SYNDROME.
It's natural to feel some tension in your arms. NOT PAIN. Always stretch before and after playing and even get an ice cube and ice down your forearm for a 2-3 minutes (not longer) to reduce swelling after an intense practice session. The last thing you want is to injure yourself.
Practice time
PRACTICE TIME ( At Least - 30 Minutes Per Day)
NOTE: Set your Metronome to 4/4 time.

Play the pattern once per position then move up one fret all the way to the 12th fret. Then play twice per position, then four times per position and move up one fret at a time to the 12th fret. This will work up your endurance. Keep pushing the metronome up slowly. Once you reach what feels like your maximum, without losing precision, you are ready to record your mission!

VIDEO: