Pantera
Pantera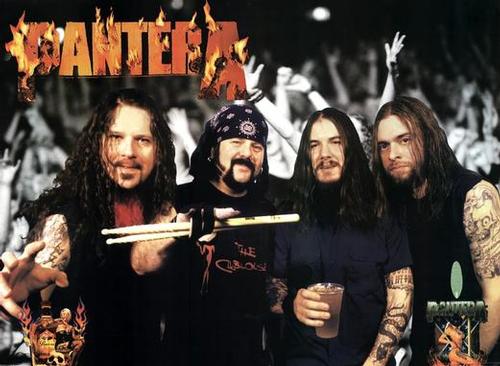 Pantera were an American Metal band founded in 1981 by the brothers Vinnie Paul Abbott and Darrel Lance Abbott in Fort Worth, Texas. With Vinnie on the drums , his brother Dimebag Darell on guitar, bassist Rex Brown and their Singer Phil Anselmo, Pantera reinvented Heavy Metal and shaped the face of todays Extreme Metal. The Band split up in 2003 because the Abbott brothers and Phil Anselmo could not get along with each other anymore.
The Early Years: Glam Metal

Most people think of Pantera as a post-thrash Metal band and that Cowboys from Hell was their first record. The truth is that Pantera released several Albums before this one and they played a totally different Music: 80's Glam/Hair Metal.
In 1983,84 and 86 Pantera released the records Metal Magic, Projects In The Jungle and I Am The Night without the support of a record company. The Albums were recorded in the Country-studio of Vinnie and Darrels father.
The band wore spndex pants, had fluffy hair and sounded like a mixture of KISS and Poison. Until 1987 Pantera switched their singer three times until their last singer became Phil Anselmo. With this final lineup they recorded a fourth selfproduced album called Power Metal. Their sound evolved with Iron Maiden Influences and harder vocals but it was still lightyears away from what would follow.
No More Spandex:Cowboys From Hell

In 1989 the band got a Major-Label deal and they decided to change their style from the ground up, in music and clothing. They abandoned their fancy pants and haircuts and entered the stage with casual clothing; Darrel changed his nickname Diamond into Dimebag Darrel. The Band changed their style into an extreme and fast Heavy Metal, inspired by the 80's thrash metal bands. With their Majorlabel debut Cowboys from Hell Pantera released the blueprint for todays extreme Metal and invented the genre of Groove Metal.
Pantera's Major label debut is the hardest heavy Metal record in 1989. Dimebag Darrels cutting Riffs accompanied by a pounding bass guitar and Doublebass drums saved heavy Music in a time when Heavy Metal was in a Coma. The album features brutal fast tracks aswell as slow ballads, toped by Phil Anselmos unique vocals.

Listening Tipps: Cowboys Frome Hell, Domination and Cemetary Gates

1. Cowboys From Hell
2. Primal Concrete Sledge
3. Psycho Holiday
4. Heresy
5. Cemetary Gates
6. Domination
7. Shattered
8. Clash With Reality
9. Medicine Man
10. Message In Blood
11. The Sleep
12. The Art Of Shredding

In Your Face:Vulgar Display Of Power

With 1990's Vulgar Display Of Power, Pantera released one of the most influential Metal records of all time. They managed to release and even heavier record than their Major Label debut Cowboys from Hell, with an harder edged vocal style that did not use high screams anymore. The record was released in the time when Grunge was big and Metal was almost dead and yet it jumped into the top 50# of the billboard charts, stating that Metal was just waiting for it's time to strike back. Blending eerie, surging grooves influenced by Black Sabbath with thrashy speed metal riffs, Pantera created a bleak, oppressive disc that captured both ends of the speed spectrum without resorting to cliché, abrupt tempo shifts. Listening Tipps: Every Track on this century record! Especially Mouth For War, This Love and Fucking Hostile.

1. Mouth For War
2. New Level
3. Walk
4. Fucking Hostile
5. This Love
6. Rise
7. No Good(Attack The Radical)
8. Live In A Hole
9. Regular People(Conceit)
10. By Demons Be Driven
11. Hollow

Brutality on Billboard #1:Far Beyond Driven

As Pantera became more and more known within the Heavy music world and toured their first headlining worldtour, the band released their third majorlabel record.
Far Beyond Driven took Pantera's music to an even heavier and more extreme style than on previous releases. Much of the shift was due to Dimebag Darrell's more down-tuned and up-tempo playing styles. Anselmo's lyrics of shed some light on his personal life. Although this record was even harder than the first two records it is most extreme albums ever to debut at #1!!! Listening Tipps: 5 Minutes Alone, I'm Broken and the Sabbath Cover Planet Caravan.

1. Strength Beyond Strength
2. Becoming
3. 5 Minutes Alone
4. I'm Broken
5. Good Friends And A Bottle Of Pills
6. Hard Lines, Sunken Cheeks
7. Slaughtered
8. 25 Years
9. Shedding Skin
10. Use My Thurd Arm
11. Throes Of Rejection
12. Planet Caravan(Sabbath Cover)
13. The Badge (Bonus Track)

Band Tensions:The Great Southern Trendkill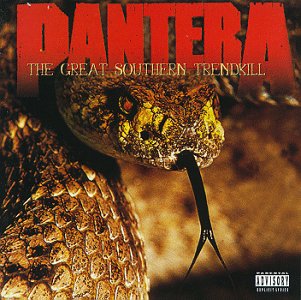 Pantera's 1996 album The Great Southern Trendkill is an even harder and uncommercial than Far Beyond Driven. Pantera was pushed by their Record Company to follow the Trend of Rap Metal but the Band refused to do so and delivered their hardest record so far. The tempo was increased, the vocals were hate-filled and Phil screamed more than he sang. The album contains all the great Pantera trademarks but unfortunately the band pursued the maximum of heaviness and lost the melody of former records.

Listening tip: Floods, a slow, sad and psychadelic song with one of the greatest Solos of all time.

1. The Great Southern Trendkill
2. War Nerve
3. Drag The Waters
4. 10's
5. 13 Steps To Nowhere
6. Suicide Note Part.1
7. Suicide Note Part.2
8. Living Through Me
9. Floods
10. The Underground In America
11. (Reprise) Sandblasted Skin


As Pantera were at the height of their fame in the mid-90s, Anselmo began to behave erratically and distance himself from his band mates on Far Beyond Driven Tour in 1995. Anselmo later cited a chronic back injury as the cause of his erratic behavior and isolation from his band mates. As his pain continued to worsen, Anselmo began using heroin to alleviate his problem, while at the same time continuing to isolate himself from his band mates. The distancing became so great that when the band recorded their 1996 album The Great Southern Trendkill, Anselmo cut his vocal tracks separate from the rest of the band in New Orleans while the rest of the Band layed down the Tracks in Dallas.
Welcome Back To Life, You Overdosed On Heroin
On July 13, 1996, Anselmo broke down after a show. He was found lying on his back in the backstage area, his face turning blue and an empty syringe lying besides him. The paramedics were called immediatly and carried Phil into an Ambulance where they injected him a shot of adrenaline directly into his heart. He jumped up immeddiatley and vomited. A nurse told him: Welcome back to Life, you overdose on Heroin. Anselmo had been dead for over 4 minutes until the medics could ressurrect him. He promised his band members that he will stop using drugs after this near-death experience but he did not stand to his promise.
The End Of Pantera:Reinventing The Steel

After four years of absence from their last studio album the band returned with their fifth album Reinventing the Steel. Pantera's aggression is confirmed by the full-throttle rhythms, throat-ripping vocals, and crunchy guitars. The album picked it up what they started with The Great Southern Trendkill and took it even further into pure hardcore-heaviness. Listening Tipps: Goddamn Electric feat. Kerry King and Revolution Is My Name.

1. Hellbound
2. Goddamn Electric
3. Yesterday Don't Mean Shit
4. You've Gotta Belong To It
5. Revolution Is My Name
6. Death Rattle
7. We'll Grind That Axe For A Long Time
8. Uplift
9. It Makes Them Disappear
10. I'll Cast A Shadow


The band's world tour for Reinventing the steel was interrupted by the September 11, 2001 attacks and the band decided to take a years break from making music. The Abbott brothers were embarrassed Anselmos stage acting because phil, numbed by drugs and medications, kept missing vocal lines and even fell of stage. Phil promised that everything would change within this one year break. But Phil did not take a break, he recorded new Albums with his Bands Down and Superjoint Ritual, kept on touring with these bands. After three years of absence from Pantera, the Abbott brothers recognized that Phil would not return and they officially broke up Pantera in 2003.
On-Stage Murder
On December 8, 2004, while performing with his new band Damageplan at the Alrosa Villa in Columbus, Ohio, Abbott was shot and killed onstage by former U.S. Marine Nathan Gale. Nathan entered the stage of the small club, trying to kill the Abbott brothers. Dimebag Darrell Abbott was shot 3 times in the head with a handgun, the third time at point blank range, killing him instantly. He was 38 years old.Three others were killed in the shooting, the murderer was shot shortly after the assault by a Police officer. The official statement said that Nathan Gale was psychologicaly weak and could not accept the fact that his favourite Band Pantera had split up and sought revenge by killing the founders of Pantera: Dime and Vinnie.
Side Projects
Over the years every member of Pantera took part in side projects like guest appearances or other band projects. Vocalist Phil Anselmo was most productive besides his main Band Pantera. He played the guitar for the Black Metal Bands Eibon and Necrophagia. He formed two new side Projects where he took part of the vocalist again, accompanied by Rex Brown on the Bass guitar: Southern/Doom Metal Band Down and the Hardcore Band Superjoint Ritual. They released several Albums with both bands and are still active with Down on the present Day. Phil was also a guest singer on records of Anal Cunt, Crowbar, Soilent Green und Vision of Disorder. Bassist Rex Brown played with Down and Superjoint Ritual and added Basslines to a song from Cavalera Conspiracy. Dimebag Darrell released a few solo tracks, had a guest appearance on the Anthrax record We've come for you all and formed the Band Damageplan with his Brother Vinnie Paul on the drums after the split of Pantera. Rex, Vinnie and Dimebag recorded the Album Rebell Meets Rebell, a country/Metal project with country Legend David Allen Cole. Four Years after his brothers' death, Vinnie Paul started to make music again as the drummer of the Supergroup Hellyeah.
Dimebag Darrel Lance Abbott

This is just a brief description of Dimebag Darrel as I have already written a whole article about him earlier this year. Darrel Lance Abbott was born on August 20, 1966, Arlington, Texas – died on December 8, 2004, Columbus, Ohio. He was shot on-stage while performing with his Band Damageplan.
Darrels main influences were Eddie Van Halen and Kiss and they made him pick up the guitar at the age of 13. He is famous for playing Dean ML style Guitars and has several signature series. His playing featured razor sharp, alternate picked riffs with lightning fast solos. He is the inventor of the modern scooped Metal guitar sound, with cut-out mids and a huge amount of gain.
Vinnie Paul Abbott

Vincent Paul "Vinnie Paul" Abbott was born on March 11, 1964 in Dallas, Texas. Vinnie Paul is the son of Jerry Abbott, a country music songwriter and producer. His professional musical relationship with his brother often earned them comparisons to hard rock musicians Eddie and Alex Van Halen. His biggest influence is Peter Criss of KISS. Vinnie Paul also incorporates elements of progressive rock and swing into his drumming. Vinnie Paul plays on a Pearl MRX Masters Series Drumkitt and is known for a very tight and groovy playing with a unique and heavy sound.
Rex Brown

Rex Robert Brown was born on the 27Th of July in Graham, Texas. Rex is a Metal bassist but he started of as a Jazz bassist during Highschool. He plays diffrent brands of bass guitars, mostly 4 string basses which he hangs below his waist. He is playing with a pick and is famous for his grooving but simple playing style.Rex was notable for often contributing walking basslines underneath Darrell's guitar solos. He has a signature Spector bass modelled after a Gibson Thunderbird.
Phillip Hansen Anselmo

Phil was born in New Orleans, Louisiana on june 30, 1968. Phil is six foot tall, muscular, weighs a 190lbs and is heavily tattooed. There is not much information about his childhood. What is known is that Anselmo grew up in the inner city of New Orleans to an abusive alcoholic father who operated several bars in the area. Phil played in several bands as a teenager, the most notable of which being Razor White. He was an avid hardcore punk, metal, and thrash fan. With no education or family Anselmo committed his life to music. His vocals are clean but very ruff. He has an extremely low speaking voice but is able to do Judas Priest like high screams as well as deep growling. Anselmo has a chronic back injury that needed a major surgery and years of recovery. Anselmo refused to take a long brake from performing life and used medications and drugs to dull him from the pain and keep him on stage. His violent stage acting and headbanging only worsend his pain. In 2005 he finally had the successfull operation and can now perform without medications.
Discography
Studiorecords
   * 1983: Metal Magic
   * 1984: Projects in the Jungle
   * 1985: I Am the Night
   * 1988: Power Metal
   * 1990: Cowboys From Hell
   * 1992: Vulgar Display of Power
   * 1994: Far Beyond Driven
   * 1996: The Great Southern Trendkill
   * 2000: Reinventing the Steel


Live-records & Compilations
   * 1994: Driven Down Under (Live)
   * 1997: Official Live: 101 Proof
   * 1998: Singles 1991-1996
   * 2003: Reinventing Hell - The Best Of


Singles & EPs
   * 1992: Mouth For War
   * 1992: Walk
   * 1994: I'm Broken
   * 1994: 5 Minutes Alone
   * 1994: Planet Caravan
   * 1994: Walk EP
   * 1994: Alive and Hostile EP


Videos & DVDs
   * 1985: The Hot 'N' Heavy Home Vid (VHS)
   * 1991: Cowboys From Hell - The Videos (VHS)
   * 1993: Vulgar Video (VHS)
   * 1997: Pantera 3 - Watch It Go (VHS)
   * 1999: Pantera 3 - Watch It Go (DVD)
   * 2006: 3 Vulgar Videos From Hell (Re-Release) (Doppel-DVD)

Chart Entries

Vulgar Display of Power

   GER: 69 – 01.03.1993 – 9 Weeks. [2]
   US: 44 – 14.03.1992 – 77 Weeks.[3]

Far Beyond Driven
   DE: 7 – 04.04.1994 – 26 Weeks. [2]
   AT: 8 – 03.04.1994 – 22 Weeks. [4]
   CH: 21 – 03.04.1994 – 9 Weeks. [5]
   UK: 3 – Apr 1994 [6]
   US: 1 – 09.04.1994 – 29 Weeks.[7]

The Great Southern Trendkill
   GER: 29 – 20.05.1996 – 9 Weeks. [2]
   AT: 14 – 19.05.1996 – 16 Weeks. [4]
   CH: 37 – 19.05.1996 – 3 Weeks. [5]
   UK: 17 – May 1996 [6]
   US: 4 – 28.05.1996 – 16 Weeks.[8]

Official Live 101 Proof
   GER: 84 – 18.08.1997 – 1 Week. [2]
   AT: 46 – 07.09.1997 – 1 Week. [4]
   US: 15 – 16.08.1997 – 12 Weeks.[9]

Reinventing the Steel
   GER: 18 – 10.04.2000 – 7 Weeks. [2]
   AT: 26 – 09.04.2000 – 3 Weeks. [4]
   CH: 84 – 09.04.2000 – 2 Weeks. [5]
   UK: 33 – Apr 2000 [6]
   US: 4 – 08.04.2000 – 12 Weeks.[10]

The Best Of Pantera
   US: 38 – 11.10.2003 – 5 Weeks.[11]

--ZakkWylde 01:03, 17 May 2008 (CEST)