SRV
Stevie Ray Vaughan
Stevie Ray Vaughan was an American blues/rock guitarist. He was one of the world's most influential blues guitarist. Like many other blues guitarists, Stevie tuned down a half step to E flat (Eb).
Life
Stevie Ray Vaughan was born on October 3, 1954 in Dallas, Texas. Neither of his parents had any strong musical talent but were avid music fans. They would take Vaughan and his older brother Jimmie to concerts. Stevie initially wanted to play the drums as his primary instrumentbut Michael Quinn gave him a guitar when he was seven years old. Stevies brother gave him his first guitar lessons. Stevie said his brother was one of the biggest influences on his playing and he was the reason he wanted to play too.
Later Life
Stevie's first band was called Paul Ray and the Cobras. They played at clubs and bars in Austin during the mid-1970s, and released one single. Stevie later recorded two other singles under the band name The Cobras. He left the Cobras and formed Triple Threat in late 1975. The band included bassist Jackie Newhouse, drummer Chris Layton, vocalist Lou Ann Barton, and sax player Johnny Reno. Barton left the band in 1978 to pursue a solo career, followed by Reno in 1979. The three remaining members started performing under the name Double Trouble. Stevie then became the band's lead singer. Tommy Shannon replaced Jackie in 1981. Double Trouble produced a couple of albums and continued to tour.
Guitars and equipment
Stevie often gave his guitars nicknames. He had seven guitars of all which were Fender Stratocasters. "Number one" was a 1959 Strat used most of his career and for his studio albums. It is now in his brothers possesion.

"Yellow" was a yellow 1959 Stratocaster that was given to Stevie by Vanilla Fudge's lead guitarist.It was in poor shape, but was restored by Charley Wirz. Yellow was stolen in 1985, but was later recovered and is now on display in the Las Vegas Hard Rock Cafe.

"Red" is a 1962 Fender Stratocaster which Stevie acquired in late 1983 from Charley's Guitar Shop in Dallas, Texas. The guitar originally had a sunburst finish, but repainted fiesta red as a custom color.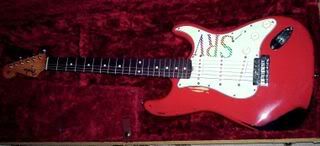 "Main" was a custom Fender Stratocaster-style guitar made for Vaughan by James Hamiltone. It was presented to Vaughan by James as a gift from ZZ Top guitarist, Billy Gibbons on April 29, 1984.

"Scotch" is a 1961 Fender Stratocaster used by Vaughan for the last 5 years of his life. He acquired this guitar in the fall of 1985. Stevie used this guitar in place of "Number One" towards the end of 1990, because of "Number One's" neck problems.

"Charley" was a custom-made Stratocaster and was built for Stevie by the late Charley Wirz, a friend and owner of Charley's Guitar Shop in Dallas, Texas.

"Lenny" was purchased at a pawn shop in Texas for $250. It was purchased by Stevie's wife Lenora, "Lenny", in 1980 and was named after her.

For amplifiers, Stevie used a wide range of vacuum tube amplifiers during his career, often using multiple different amplifiers simultaneously. He used basic effects which included an Ibanez Tube Screamer and a Vox wah-wah pedal.
Death
His last performance was on Aug 26 1990 at the Alpine Valley Music theater where he was on stage with Eric Clapton,Buddy Guy,Robert Cray and his brother Jimmie. After the concert he boarded a helicopter at about 12:40am. It crashed moments after take off into the side of a ski hill killing all persons aboard. His Life was cut short just when he was on the brink of stardom. He is now buried in Dallas, Texas his hometown.
Albums
Texas Flood 1983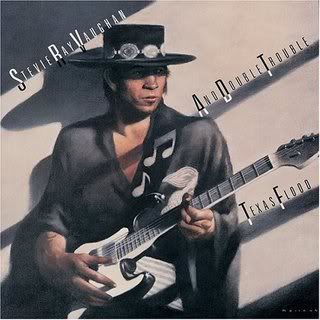 Couldn't Stand the Weather 1984
Soul to Soul 1985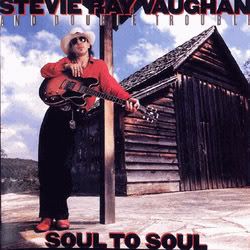 In Step 1989
Family Style 1990 (with his brother Jimmie as The Vaughan Brothers)
The Sky is Crying 1991
Related GMC lessons
And MANY MORE!
--Nick325 23:53, 16 June 2008 (CEST)