Promoting Your Playing And Your Music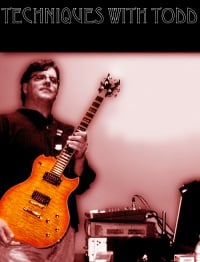 Promoting Your Playing And Your Music
An article by Todd Simpson

This article is a series of thoughts, tips and tricks to help getting the word out about you and your music.
Use Youtube
One great way to get the word out about your playing and your music is none other than youtube. Ive kept a youtube channel for a few years now and have have more than one million views and have met wads of great players all over the world.

Here is a graphic showing the views from the "insight" portion of youtube that allows you to visualize all the data related to your account.

If you don't have a youtube acccount, START ONE! I have gotten THREE ENDORSEMENT DEALS JUST FROM MY VIEWS ON YOUTUBE! It's a great way to get noticed!
Simple Rules
1.2 MILLION VIEWS! 3,000 SUBSCRIBERS! HERE'S HOW
Getting your videos watched is of course crucuial. Ive made it to 1.2 million views and 3,000 subscribers so far using some pretty simple rules.

ANYBODY can do this. Just look at our main man Kristopher Dahl's youtube page! HUGE views, STELLAR responses. Lead video he is playing behind his head.
https://www.youtube.com/user/KristoferDahl
Simple Rules:
1 - Post videos that encourage repeat views such as good lesson videos with tablature if possible.
2 - Tag every video using tags that will help people find your vids. Borrow tags from vids that have HUGE views but don't "tag Spam"
3 - Respond to every question, comment and friend request no matter how long it takes, WARNING: It seems to take forever but it's fun and it's worth it to meet all those great players and students on youtube.
4 - Find students who you could help and suggest your vids to them.

Pretty simple stuff. I'm a "Youtube partner" now and get to share revenue with the ads that are on my channel. It's also led to several endorsement deals (EMG, Minarik, Fretlight). It's a great way to get yourself heard and seen. Not to mention it's a great way to share your skills with aspiring students and pimp GMC! Go for it!
Getting on Spotify
One way to get on Spotify and other services is through something called TUNE CORE. It's not free but it is cheap. I've looked through most of these and so far I like this one best. If anyone else has another option please do share!!! www.tunecore.com
Here's some of the awesome stuff you get through TuneCore:
Worldwide digital distribution to over 150 stores, including iTunes, Spotify, and Google Play Pre-orders for iTunes & Google Play Daily Trend Reports to keep a day-to-day eye on your sales in Spotify, iTunes, and Amazon. TuneCore's commitment has always been to our artists. That's why we never take a percentage of your sales, and never withhold any of your distribution rights.
Another way is through REVERBNATION.com for $1 per song, they will let you pick six streaming services (spotify etc.) to stream your spiff song through

The price was so good, that I put my recent collab with Hamin from Iran on reverbnation to see how it does

I talk about this stuff a lot, as I keep seing folks release albums digital and CD to no apparent audience and then end up giving most of the CDs away. One would like to think that "if you build it, they will come" but it seldom works that way. Doing something low cost to get your music out there is often a very good way to get the ball rolling

Also, it's not very hard to get a ranked position on reverbnation.com, and its something you can add to your social media, and press kit etc. To show how easy it is, I'm currently ranked in the Top 10.
Promoting yourself/band/music
Social Media - They key to it all.

Another great place on the web to promote yourself and your music is FLICKR.Com. This is the original pioneer of photo sharing sites. Start taking pix of your band, your studio, whatever, and keep posting and sharing! Just another way to share yourmusic and yourself.

Embrace Social Media Flickr, Myspace, Facebook, etc.
Branding yourself and your music

It sounds lame, "branding" as if you are some type of detergent or mouthwash that needs a lable and slogan. It's offensive. However, it's also crucial. You need to develop yourself in to something of a recognizable commodity in the great big world. Even if you are only known to a handful of people.

Your "brand" or "Rep" will get places ahead of you. Good or bad it will tell people things about you ahead of time. For example, if you want to join a band, or get a job, somebody will google you. They will find you on facebook, myspace, etc. and whatever pics and text you have up there will form the basis of their judgements about you even before they know you.

So be careful about what you put up online and who you share information with. It's critical that you put yourself out there enough to be relevant and searchable, but don't put out the wrong message. Don't post pictures of yourself intoxicated or half cloathed or what not. These pix float around forever on the web and can bite you later on. So be careful but be pro active about your online "image", "brand", "rep", etc. Be kind, be professional, don't rage or hate as it always makes you look silly.

Now that we have that covered, here are some things you need to be doing to keep up your "brand".

1.)Instagram - Updated regularly
2.)Twitter - Same
3.)Youtube - Same
4.)Facebook - Same
5.)Blog/ReverbNation - Same


The good news is you can use www.hootsuite.com to login and post to all your social media for you! You make one post, it goes out everywhere you want it to go and you can determine when!

Take a look at my Signature below, it's got all the links to my social media shiz. Sometimes it can be a pain to update all of this, especially at first when it's only for a few people. But you have to start somewhere. Make it part of your daily routine, just like practice!
Getting the word out about you and your music
Hopefully by now you guys have all created a facebook page, twitter account, etc. and Try to post things regularly to start building base of listeners so that as you create music, join bands, etc. there will be people who want to hear it. It always starts small, so even if it feels like you are writing to three people, keep going. Crowds come after the effort, not before it.

However, posting to all the various social media sites is a PAIN! So I've found a great, free, site that lets you create a post once and distribute it to all of your social media at once! You can even schedule when the post will go live. For example, you've recorded a new track, or demo, or your first CD. You make a post about it that night and want it to go out in the late morning so that folks will have it at the top of their news/twitter/facebook feed. So you create the post, with links to the music and tell hootsuite.com to post it the next day at about 10:30.

The best news is that hootsuite.com is free! They should give me a mug/tshirt/calender for pimping them though. Here is a link to them and a picture of the hootsuite interface.

Here are some basic things to do first to promote it once you have a band identity (name, logo, artwork, graphics, etc.) and some tunes.
1.)Create a Facebook "Fanpage" / "LikePage" just for the project.
2.)Create facebook profiles for members and link them to project page.
3.)Create a myspace page for the project
4.)Create a sonicbids.com electronic press kit for project.
5.)Create a twitter account for the project.
6.)Create a hootsuite.com account for the project (as in the previous post, this will let you update all your social media at one time)


This isn't an exhaustive list, but it's a good start. Also, post frequently. The more frequent you put out information, the better recognition you will generate. Don't spam certainly, but stay active.
"Making it" and "Making your way" in the "BIZ"

I wanted to share this post in my Promotion Thread here as it's very pertinent to the topic. It's from a KILLER thread where Ben shares his "Guitar Bushido" and the instructors talk about making a living with music. Here is a link to the full thread and below that is my post that started the snowball rolling.

The days of "value added plastic" (CD's/DVD's) are gone. Big acts can make money touring, but smaller acts struggle to break even doing live shows for the most part. The trick is really to get you or your band across the threshold from being a local, to a regional, to a national act. At that point, tour money can be enough to live on if done wisely. But it's not just about touring.

At this point in the industry, it's about putting together multiple revenue streams.
1.)Touring
2.)Merchandise
3.)Songs for Hire
4.)Appearances/Lessons
5.)Private Gigs
6.)Endorsements
and above all
7.)Licensing.


That last one is the biggy. If you can license your music to a TV show, Movie, Video Game or commercial, You can do really well financially. Once you establish yourself as a business (a few forms in most places) and create some music and go through the copyright process for your band name etc. You are ready to start selling.

It won't come to you, but you there has never been a better time to be a musician. Gear is cheap, you can put together a home studio that would have cost as much as a house about 10 years ago. You can use social media to get yourself out there. Skip the record lable. This is the age of DIY (Do It Yourself)

Start with social media (youtube / facebook) and get ready to spend wads of time pimping yourself/band. In a perfect world, we would just create music, and the rest would take care of itself. Sadly, we live in this world, not the perfect one. But again, the playing field is more level than ever. Go forth!
Todd's Top 5 best practices for posting to youtube (Secret Techniques of Getting More Views!)
Want more views on your YOUTUBE videos? Follow the "P"s!
1.)Pre Pimp Posts
-Put out through hootsuite.com (which hits all your social media in on go, spiff! go there and sign up if you haven't already, it's free and CRUCIAL!) that you are about to release a new video. Maybe a day or two ahead.

2.)Pimp the Post
-Use the BULLETIN feature on youtube to create a bulletin about your new video. Also, hit hootsuite.com again and send out tweet/facebook/etc. that you have a new video up.

3.)Parlay the Post
-Parlay your post in to results by running a search on the keywords you think might work best. Find what key words are working for top view count vids and STEAL THEM.
4.)Pepper the Posts
Pepper all the posts you find with similar key words and high view counts with video responses containing your new vid! It's still there, just scroll down a bit.

5.)Pay to Play
-Pay up and start a low budget google adsense campaign or a "promoted video" campaign right on youtube. If you don't have a google adsense account, GO MAKE ONE! It's free. Here is the link.

If you want to know more about paying for promoted videos on youtube, check this link

To promote your video, Budget about 30 to 50 euro each month. Bid slightly higher than top suggested bid for important key words, but limit your total spend to set amount. That amount becomes your ad budget smile.gif

Finally EMBRACE ANALYTICS! (Youtube has great built in tools to help you track how your videos are doing and how people are finding them. Here is a screen grab.

Also, GET THIS BOOK! It RAWKS! It's packed with tips on leveraging SOCIAL MEDIA (facebook, youtube etc.)
Getting traction/views on Youtube

Youtube is MUCH bigger than pretty much any of the other user created content networks. So yup, it's where the "eyballs" are

The thing that frustrates most folks is getting any traction/views. It takes some trial and error, but it's certainly possible to build a following as evidenced by the GMC instructors and many students :)
However, it's not really an "either or" kind of thing IMHO. Each site/network has it's purpose and place. Soundcloud is a very different thing. But it's a very important place to be if you want your music to be heard IMHO. You may notice that every record label on earth has a soundclound account as does mostly any band worth noting.
Some things make sense to post on soundcloud and not youtube. Sometimes, the other way around.
As for getting some traction on youtube, it's an art to be sure. Here are some tips.
1.)do some research on youtube and pick 5 or 10 channels that you like and want to emulate in some way. I know you want to be original, but using some examples/role models is a great way to gain a foothold.
2.)Look at the videos on the channels you've picked. Break them down, watch them WITHOUT AUDIO. What is in the frame? Does the video look like it's shot in a bedroom or a studio or outside? What camera angles are used? What do you see in the frame?
3.)Turn audio back on. What types of videos on these channels are getting the most traffic? Original Music? Cover Music? Gear Reviews? Lyric Videos? Take note of what works and try to adapt your content just a bit in order to compete.
I wish I could simply say "Be yourself, just let the music do the talking" but sadly, there is an element of salesmanship and showmanship that go in to making a compelling video and a compelling channel. You can tell which channels are compelling pretty easily. Look at the view count and subscriber count. More than a MILLION total Views? Probably something can be learned from that channel

Less than a Million views? Maybe still something to be learned but perhaps not quite as much.
That's a pretty basic breakdown of the entire system and an approach that has worked for me

Of course, there are UNLIMITED WAYS OF APPROACHING IT. You just have to decide which approach to take based on what works for you :)
State of the BIZ
It's gotten bad in terms of the middle of the industry being cut out, and mostly folks at the very top making money. It's always been that way to a degree, but in the heyday of the CD (somewhere in the 90's) Mid Level acts could produce their own CDs and with an indie label or by touring constantly, they could make enough to earn a living.
Those days are mostly gone. There are a few exceptions of course, as there are with nearly every rule. But with the decline of physical media sales (cd's in particular) the entire economic base of the music industry started to collapse and it's been shrinking, as an industry, for years. Here is a handy chart

It shows expenditures on media per type adjusted for inflation. The industry is down about 64% from it's "peak". For a long time, full album sales propped it up, then CDs. With digital, we have digital pennies not making up for analogue dollars. So the pie itself is getting smaller.

Link to a very informative article where I got this graph.

Still, even with all this, there have never been a better time to be a musician IMHO. Due to the web/social media, you can get your work out there and have it seen by millions in ways that were not possible before. Pre 1995, you did it the old fashioned way for the most part. You sold albums/cds and you went on tour and sold merch. Otherwise, you "tape traded" for underground music or something similar.
The trick is, how to make any income with music and music related activities. Assuming one wants to do that, of course. There is NOTHING wrong with keeping money out of it and making music just for the love of music, and sharing it for free on youtube/soundcloud/facebook/etc.
If you do want to "monetize" your music, as I mentioned earlier, it's about diversifying yourself. Trying to license your music anywhere. To stock music services, to commercials, films, anything really. You have to start small, as with anything. E.G. Scoring a film for free for a friend who likes your music. Hoping that the movie does well and he asks again and can pay you the next time around. It's something you grow in to, just like music itself

Don't forget the performance aspect as well, learning to read music can help you in places like Nashville, L.A., New York, where folks still hire session/studio players. Tina Guo (40k subscribers) is a Cellist who makes a wonderful living (after a decade of earning the crap out of it) and drives a porsche bought with money made from gigging/concerts/merch/etc. Ola Englund (106k subscribers) is great example of "Doing it from home" and turning youtube in a real gig. He has toured the world with Six Feet Under and now with THE HAUNTED. He was an office working for about a decade as he built his following on youtube.
So it can be done

You just have to be a bit original about how you approach it. So get creative and start building your audience once video/song at a time


Todd Simpson
Related Articles
Making it in the music business today