ROCKTRON G300 Review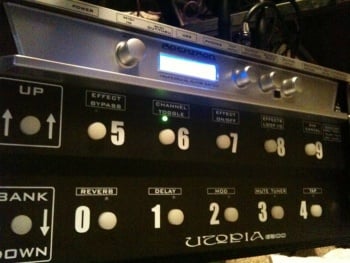 Information
Original author: Todd Simpson
Weapon: Multi-effects

Make: ROCKTRON

Model: G300

Price: $400

Introduction
In this review I"m going to talk a bit about the ROCKTRON G300. This unit is a multi-effects pedal that makes use of some very sophisticated internal processing to create lush soundscapes and big guitar tones. This is the top of the line in this range of units. There are two units beneath it that feature the same internal features but have fewer stomp buttons, smaller case etc. I bought my unit from musiciansfriend.com and and it arrived in perfect shape. The list price is about $560 U.S. but the street price is bout $400 U.S. Here is a link to the manufacturer web site product page.
Sound Quality
The overall sound quality on this unit is just amazing. It's got very little noise, all the effects are very natural and clean sounding and the built in presets will cover about 90 percent of every tone you will want to have at your finger tips. The delays are particularly good as are the chorus and flanger. The distortions sound very convincing and there is a cabinet simulator built right in so that you can run to a PA and skip the amp or record direct via USB out or Optical out.

The bad news is that even though this will get you 90 percent of the way to tone heaven right out of the box, it's that last 10 percent that kinda wrecks it. The presets are all pretty good, but there is not a preset for hardcore/extreme/metal type gain/distortion suitable for leads and rythms that require it. You can tweak the presets, BUT there is a limit to how far you can tweak them. For example, you can adjust the amount of bass, mid, etc. But you can't select the frequency being manipulated. It's as if they expect you to just leave the presets in place and not really mess with anything.
Build Quality
Excellent. The build quality is frankly the best I've seen in a pedal board in this price range. Pro level build quality through and through. The unit is solid, stable, heavy, and rugged. The wah/volume pedal is very solid and the foot switches feel sturdy as well. This unit looks like it could take a serious beating and not miss a beat.
Value
Overall, the street price of this unit makes is a really good value. It's very flexible, and very well built. It looks, feels and sounds like a Pro Level unit. For most players this unit would make getting good tone very easy. However, if you are looking for a unit that will let you tweak your heart out in search of perfect tone, or if you are looking for a Death Metal/Thrash/Super High Gain Lead Shred tone, keep looking as this unit will not give you what you are looking for.
Video