Template:Main Page Featured Article
Our shred instructor Todd Simpson was amazed when he tried this overdrive, which was hand built and gifted to him by GMC member Yoncopin. Yeah. That's how awesome our community is

"I actually like the tone better than my Pro Tone Misha Bulb over drive. It responds like a tube amp. Light touch is met by a very tubey sound, dig and it gets more Marshall sounding. Most responsive overdrive I've ever tried. This thing is my fave overdrive yet and I've tried wads and wads of them." - Todd Simpson
"I'm going to guess what Todd refers to as the secret sauce is probably the germanium diodes. The design called for a Russian D9E, but I used 1N34's as the original creator eventually revealed were used in the original. Here's some background on silicon vs germanium diodes" - Yoncopin
Read more to learn about this great pedal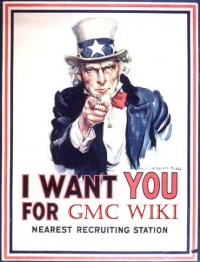 Help: GMC wants YOU to take part in our Guitar-Wikipedia! Have a good time reading great articles and writing your own with us in our GUITAR WIKI!, your help will be much appreciated, check the Wiki Forum to see what's going on!
Here's our list of ongoing Wiki projects, you are welcome to join any of them

So, please let us know what you know - and start writing!