Yamaha Magicstomp Review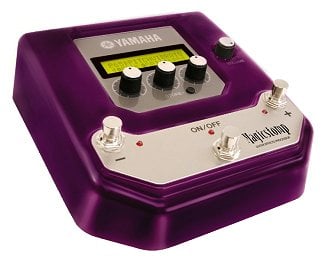 General Information
Original Author: audiopaal
Weapon: Yamaha Magicstomp
Make: Yamaha
Model: Magicstomp
Price: I bought this pedal used in Norway, I don't remember what I paid for it I'm afraid. It wasn't expensive though.
Sound Quality: 7/10
The range of effects in this unit is great, but limited in terms of using multiple effects simultaneously. The modulation and reverb/delay effects are exceptionally good; distortions and amp simulations are not that good, but useable. The MagicStomp is rather cheap, and is pretty good for the price. I'd say that when it comes to clean and crunch sounds, this unit is great. And the effects in this unit is very, very good. But if you're gonna play metal I'd recommend you'd get something else as it is not as good as other multi-effects in this area!
Ease of Use: 6/10
Several of the basic effects that are preloaded are very useable right out of the box, some need tweaking and others you probably won't use. You need to spend time with this unit getting to know the in's and out's but it's very rewarding once you get to grips with it. One thing is that to go into the deep editing, you'll really need the manual. It's a shame that if you have a good sound going on and wanna add some delay or a little chorus, you have to virtually start from scratch and build your sound up again starting with a different preset with the modulation fx linked with the main amp sound.
Reliability: 9/10
It's sturdy, rugged and heavy and feels like something BOSS could have made so it should outlast the lot of us.
Overall Impression: 7/10
Good little box with alot of useful effects in it. Distortion tones are worthless (at least to me..), but other sounds and effects can be very beautiful and great sounding. This would be a good entry level stompbox, to learn about guitar modeling!