ACDC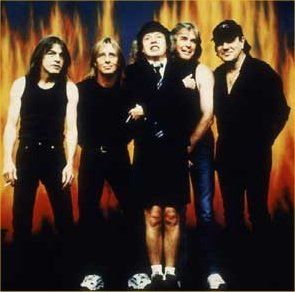 AC/DC
AC/DC is a rock band formed in Sydney, Australia by Angus and Malcolm Young in 1973. Although AC/DC are considered pioneers of hard rock and heavy metal, they consider themselves rock n roll.

AC/DC got their name from their sister Margret's sewing machine. "AC/DC" is an abbreviation for "alternating current/direct current", which indicates that an electrical device can use either type of power. Angus and Malcolm felt this symbolized the bands energy, performances, and love for music so they kept the name. There have been rumers that AC/DC stands for Anti Christ/Devil's Children or After Christ/Devil Comes.
Early Years of AC/DC
In November 1973, Malcolm and Angus Young formed AC/DC and recruited bassist Larry Van Kriedt, vocalist Dave Evans, and drummer Colin Burgess. AC/DC played their first gig at a club named Chequers in Sydney Australia on New Year's Eve, 1973. They were later signed to the EMI-distributed Albert Productions label for Australia and New Zealand. The early line up of the band changed often, Colin Burgess was the first member fired, and several bassists and drummers came and gone during the next year.

The Young brothers decided that Evans was not a suitable frontman for the group, because they felt he was more of a glam rocker. On stage, Evans was occasionally replaced by the band's first manager, Dennis Laughlin, who was the original lead singer with Sherbet. Meanwhile Ronald Belford "Bon" Scott, an experienced vocalist and friend of George Young's, Angus and Malcolm's other brother, was interested in becoming their vocalist.

In September 1974, Bon Scott replaced Dave Evans. The band had recorded only one single with Evans, "Can I Sit Next to You". "Can I Sit Next to You" was re-recorded with Bon Scott under the title "Can I Sit Next to You Girl".

By January 1975, the album High Voltage had been recorded. It took only ten days and was based on instrumental songs written by Angus and Malcolm, with lyrics added by Scott. A few months later, the lineup was stabilised which included singer Scott, guitarist Angus, guitarist Malcolm, bassist Mark Evans, and drummer Phil Rudd.
In the same year they released another single Its A Long Way To The Top (If You Wanna Rock'n'Roll) which became their rock anthem.
AC/DC Goes International
In 1976, AC/DC signed an international deal with Atlantic Records, and toured throughout Europe. The first AC/DC album to gain worldwide distribution was a 1976 compilation of tracks taken from the High Voltage and T.N.T. High Voltage, released on the Atlantic Records label, album sold three million copies worldwide, partly due to popularity with the British punk audience. The tracks were heavily weighted toward the more recent T.N.T. album, and included only two songs from their first album, Hihgh Voltage. The next album they released was called Dirty Deeds Done Dirt Cheap which was released in 1976 too and track listings varied worldwide. AC/DC wasn't popular in the United States until 1981 so thats when Dirty Deeds Done Dirt Cheap was released there.

In 1977, AC/DC was recording their next album Let There Be Rock, when bassist Mark Evans left due to personal differences between Angus. Cliff Williams replaced him on bass and became backing vocals with Malcolm. AC/DC's first American exposure was through the Michigan radio station in 1977. The station's manager booked the band to play at Flint's Capitol Theater. The supporting act was MC5, who had just briefly reunited and agreed to play at the event. The band opened with their popular song "Live Wire" and closed with "It's a Long Way to the Top (If You Wanna Rock 'n' Roll)".

The 1978 Powerage was released and marked the debut of the bassist Cliff Williams, and with its harder riffs it followed the blueprint set by Let There Be Rock. Only one single was released for Powerage, "Rock 'n' Roll Damnation" and gave AC/DC the highest mark at the time, reaching number 24. An appearance at the Apollo Theatre in Glasgow, Scottland during the Powerage tour. It was recorded and released as If You Want Blood You've Got It, featuring such songs as "Whole Lotta Rosie", "Problem Child", "Let There Be Rock", and "Riff Raff".

Their sixth album, Highway to Hell, was produced by Robert Lange and released in 1979. It became the first AC/DC album to break into the US top 100, eventually reaching number 17 and it propelled AC/DC into the top ranks of hard rock.
Bon Scott's Death
On February 19th, 1980, Bon Scott passed out after a night of heavy drinking in London. He was left in a car owned by a friend. The next morning his friend rushed him to King's College Hospital in Camberwell, where Scott was pronounced dead on arrival. Scott's death was due to "alcohol poisoning". Scott's family buried him in Fremantle, Western Australia, the area to which they had emigrated when he was a child.
Brian Johnson Joined the Band
After Bon Scott's death the band thought of quitting but knew that Bon would have wanted AC/DC to continue. Various candidates were considered for Bon's replacement until the remaining AC/DC members finally decided on ex-Geordie singer Brian Johnson. For the audition, Johnson sang "Whole Lotta Rosie" from Let There Be Rock, and Ike & Tina Turner's "Nutbush City Limits". He was hired a few days after the audition.

With Brian Johnson the band completed the songwriting that they had begun with Bon Scott for the album Back in Black. Back in Black was produced by Mutt Lange and recorded by Tony Platt, became their biggest selling album and a hard-rock landmark. It's hits include "Hells Bells", "You Shook Me All Night Long", and "Back in Black". The album was certified platinum a year after its release, and by 2006 it had sold more than 22 million copies in the United States. The album reached number 1 in the United Kingdom and number 4 in the United States, where it spent 131 weeks in the top ten.

The follow up album released in 1981 called For Those About to Rock We Salute You, also sold well and was positively received by critics. The album featured two of the band's most popular singles: "Let's Get It Up" and the title track, "For Those About to Rock", which reached number 13 and number 15 in the UK, respectively.
The band split with Lange for their self-produced 1983 album, Flick of the Switch, in an effort to recover the rawness and simplicity of their early albums.
Departure of Rudd
Phil Rudd's friendship with Malcolm Young deteriorated and, after a long period of unfriendliness, the men's dislike for each other grew so strong that they fought. He was fired two hours after the fight. Although Phil had finished most of the drum tracks for their next album, he was replaced by Simon Wright after the band held an anonymous audition.

With the new line-up, the band released a less successful album, the self-produced Flick of the Switch, which was considered underdeveloped and unmemorable. One critic stated that the band "had made the same album nine times". AC/DC was voted the eighth-biggest disappointment of the year in the 1984. Flick of the Switch eventually reached number 4 on the UK charts, and AC/DC had minor success with the singles "Nervous Shakedown" and "Flick of the Switch". Fly on the Wall, produced by the Young brothers in 1985, was also regarded as uninspired and directionless.

In 1986, AC/DC returned to the charts with "Who Made Who". It brought together older hits, such as "You Shook Me All Night Long" and "Ride On", with newer songs such as title track "Who Made Who", and two new instrumentals, "D.T." and "Chase the Ace". In February 1988, AC/DC were inducted into the Australian Recording Industry Association's Hall of Fame.
Renewed Popularity
Young brothers wrote all the songs for the next album, a practice they have continued for all subsequent releases. The new album, The Razors Edge, was produced by Bruce Fairbairn, who had previously worked with Aerosmith and Bon Jovi. Released in 1990, it was a major comeback for the band, and included the hits "Thunderstruck" and "Are You Ready", which reached number 5 and number 16. The album went multi-platinum and reached the US top ten. Several shows on the Razors Edge tour were recorded as footage for the 1992 live album, entitled Live. Live is considered one of the best live albums of the 1990s.

In 1994, Angus and Malcolm invited Rudd to several jam sessions. He was eventually rehired to replace Slade, whose amicable departure arose in part due to the band's strong desire to again work with Rudd. In 1995, with the 1980—1983 line-up back together, the group released Ballbreaker. The first single from the album was "Hard as a Rock". Two more singles were released from the album: "Hail Caesar" and "Cover You in Oil".
Recent
In 2000, the band released their sixteenth studio album, Stiff Upper Lip, produced by George Young. The album was better received by critics than Ballbreaker, but was considered lacking new ideas. Stiff Upper Lip reached number 1 in five countries.

AC/DC were inducted into the Rock and Roll Hall of Fame in March 2003. During the ceremony the band performed "Highway to Hell" and "You Shook Me All Night Long", with guest vocals provided by host Steven Tyler of Aerosmith.

On July 30, 2003 the band performed with The Rolling Stones and Rush at Molson Canadian Rocks for Toronto. The concert, held before an audience of half a million, was intended to help the city overcome the negative publicity stemming from the effects of a 2003 Severe acute respiratory syndrome epidemic.

As of January 2006, AC/DC have been working on a new studio album. According to Malcolm Young, "The band are currently writing and recording material for the eagerly anticipated next album, but no release date has been set."

In April of 2008, AC/DC's official website confirmed the release of the new album with producer Brendan O'Brien and audio engineer Mike Fraser. Johnson recently revealed during an interview that AC/DC have finished recording the new album and are currently mixing it for a late 2008 release.
Band Members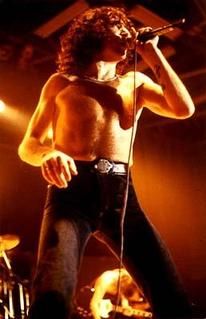 Bon Scott (Former member)- was born on July 9, 1946 in Kirriemuir, Scotland and emigrated to Melbourne, Australia with his family in 1952 at the age of six. He died on February 19, 1980 due to alcohol poisioning. He was the lead singer of AC/DC.

Brian Johnson- was born on October 5, 1947 in England. When he was young, Johnson performed in various shows with the Scouts, and appeared in a play which aired on television, and joined a local church choir. He was in the band Geordie before AC/DC where he was lead singer.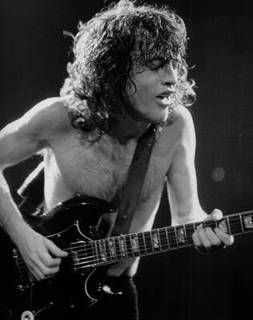 Angus Young- was born on March 31, 1955 in Glasglow, Scottland and emigrated to Sydney, Australia where he was brought up. He started playing guitar when he was five years old by taking a banjo his family had lying around the house and re-stringing it like a guitar. Angus is known for his school uniform that he wears. He is the lead guitarist in AC/DC.

Malcolm Young- was born January 6, 1953 in Glasgow, Scotland and emigrated to Sydney, Australia where he was brought up. He is Angus Youngs brother and rhythm guitarist and backing vocals for AC/DC.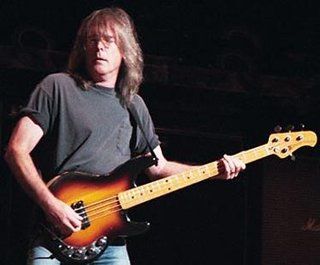 Cliff Williams- was born December 14, 1949 in England. He is the bassist for AC/DC.

Phil Rudd- was born on May 19, 1954 in Melbourne, Australia. He was AC/DC's drummer until 1983 when he was kicked out of the band. He rejoined in 1994 when they asked to if he wanted to jam again.
Discography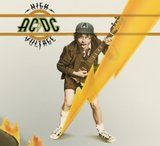 1975 High Voltage
1 "It's a Long Way to the Top (If You Wanna Rock 'n' Roll)"
2 "Rock 'n' Roll Singer"
3 "The Jack"
4 "Live Wire"
5 "T.N.T."
6 "Can I Sit Next to You Girl" (Young, Young)
7 "Little Lover"
8 "She's Got Balls"
9 "High Voltage"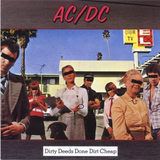 1976 Dirty Deeds Done Dirt Cheap
1 "Dirty Deeds Done Dirt Cheap"
2 "Love at First Feel"
3 "Big Balls"
4 "Rocker"
5 "Problem Child"
6 "There's Gonna Be Some Rockin'"
7 "Ain't No Fun (Waiting Round to Be a Millionaire)"
8 "Ride On"
9 "Squealer"

1977 Let There Be Rock
1 "Go Down"
2 "Dog Eat Dog"
3 "Let There Be Rock"
4 "Bad Boy Boogie"
5 "Problem Child"
6 "Overdose"
7 "Hell Ain't a Bad Place to Be"
8 "Whole Lotta Rosie"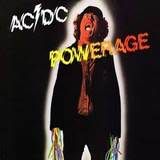 1978 Powerage
1 "Rock 'n' Roll Damnation"
2 "Down Payment Blues"
3 "Gimme a Bullet"
4 "Riff Raff"
5 "Sin City"
6 "What's Next to the Moon"
7 "Gone Shootin'"
8 "Up to My Neck in You"
9 "Kicked in the Teeth"

1979 Highway To Hell
1 "Highway to Hell"
2 "Girls Got Rhythm"
3 "Walk All Over You"
4 "Touch Too Much"
5 "Beating Around the Bush"
6 "Shot Down in Flames"
7 "Get It Hot"
8 "If You Want Blood (You've Got It)"
9 "Love Hungry Man"
10 "Night Prowler"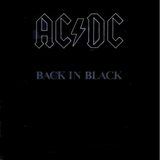 1980 Back in Black
1 "Hells Bells"
2 "Shoot to Thrill"
3 "What Do You Do for Money Honey"
4 "Givin' the Dog a Bone"
5 "Let Me Put My Love into You"
6 "Back in Black"
7 "You Shook Me All Night Long"
8 "Have a Drink on Me"
9 "Shake a Leg"
10 "Rock and Roll Ain't Noise Pollution"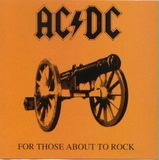 1981 For Those About To Rock We Salute You
1 "For Those About to Rock (We Salute You)"
2 "Put the Finger on You"
3 "Let's Get It Up"
4 "Inject the Venom"
5 "Snowballed"
6 "Evil Walks"
7 "C.O.D."
8 "Breaking the Rules"
9 "Night of the Long Knives"
10 "Spellbound"

1983 Flick Of The Switch
1 "Rising Power"
2 "This House Is on Fire"
3 "Flick of the Switch"
4 "Nervous Shakedown"
5 "Landslide"
6 "Guns for Hire"
7 "Deep in the Hole"
8 "Bedlam in Belgium"
9 "Badlands" –
10 "Brain Shake"

1985 Fly On The Wall
1 "Fly on the Wall"
2 "Shake Your Foundations"
3 "First Blood"
4 "Danger"
5 "Sink the Pink"
6 "Playing With Girls"
7 "Stand Up"
8 "Hell or High Water"
9 "Back in Business"
10 "Send for the Man"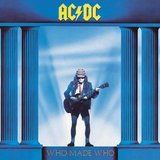 1986 Who Made Who
1 "Who Made Who"
2 "You Shook Me All Night Long"
3 "D.T."
4 "Sink the Pink"
5 "Ride On"
6 "Hells Bells"
7 "Shake Your Foundations"
8 "Chase the Ace"
9 "For Those About to Rock (We Salute You)"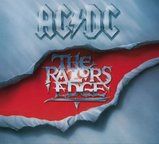 1990 The Razors Edge
1 "Thunderstruck"
2 "Fire Your Guns"
3 "Moneytalks"
4 "The Razor's Edge"
5 "Mistress For Christmas"
6 "Rock Your Heart Out"
7 "Are You Ready"
8 "Got You by the Balls"
9 "Shot of Love"
10 "Let's Make It"
11 "Goodbye & Good Riddance to Bad Luck"
12 "If You Dare"

1995 BallBreaker
1 "Hard as a Rock"
2 "Cover You in Oil"
3 "The Furor"
4 "Boogie Man"
5 "The Honey Roll"
6 "Burnin' Alive"
7 "Hail Caesar"
8 "Love Bomb"
9 "Caught With Your Pants Down"
10 "Whiskey on the Rocks"
11 "Ballbreaker"

2000 Stiff Upper Lip
1 "Stiff Upper Lip"
2 "Meltdown"
3 "House of Jazz"
4 "Hold Me Back"
5 "Safe in New York City"
6 "Can't Stand Still"
7 "Can't Stop Rock 'n' Roll"
8 "Satellite Blues"
9 "Damned"
10 "Come and Get It"
11 "All Screwed Up"
12 "Give It Up"

Related GMC Lessons



Links

--Nick325 05:37, 16 June 2008 (CEST)