Billy Gibbons
Introduction
Billy F. Gibbons (born December 16, 1949), nicknamed the Reverend Willie G, is best known as the guitarist for ZZ Top. He is also the lead vocalist and composer for many of the band's classic songs. A Houston native, Gibbons is known for playing a 1959 Gibson Les Paul guitar he calls Miss Pearly Gates. He is known to play his guitar using a quarter or a peso as a pick, lending a distinctive sound to his playing, and for his extensive use of harmonics.


Early Career
Gibbons founded the Texas psychedelic group the Moving Sidewalks, which recorded several singles and one full-length album, "Flash." The Moving Sidewalks were most prominent for opening for The Jimi Hendrix Experience during the Texas leg of Hendrix's first American tour. Also notable was the Gibbons-penned song "99th Floor," its title a nod to the influence on Gibbons of fellow Texans and pioneering psychedelic band The 13th Floor Elevators. Before that, he was in a band called The Saints with fellow guitarists David Crosswell and Philip Taft.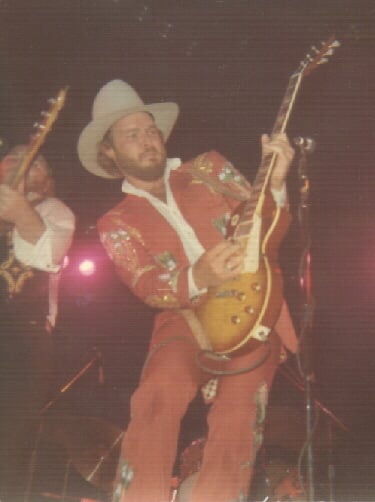 An early photo of Billy playing.


ZZ Top
He formed ZZ Top in late 1969 with bassist/vocalist Dusty Hill and drummer Frank Beard (both alumni of the bands American Blues, the Warlocks, and the Cellar Dwellers). After honing their trademark Texas Boogie-Blues-Rock style, they released the aptly titled "ZZ Top's First Album" on London Records in 1971.

The band rolled on, intensively touring and recording/releasing albums until 1977, when they took an extended hiatus. Their long-time manager/producer/image maker Bill Ham used this time to negotiate a deal that allowed the band to keep control of their previous recordings, to be distributed by their new label, Warner Bros. Records. They reunited two-and-a-half years later in order to start recording under a new Warner Bros. Records contract. Unknown to each other, both Dusty Hill and Billy Gibbons had grown the chest-length beards that quickly became a part of their "wild man" image. Despite a short uniform beard in the 1990s, drummer Frank Beard has always kept his facial hair short and shaved, with an occasional mustache.

The band hit international prominence and their commercial peak with the release of 1983's multi-platinum-selling disc Eliminator. Named after Gibbons's customized 1933 Ford Coupe (which, along with leggy party girls, was featured in several music videos), Eliminator featured the hits "Legs," "Gimme All Your Lovin'," "Sharp Dressed Man," and "TV Dinners."

In 1994, the band signed a five-disc deal with RCA Records.

In 2003, a comprehensive collection of recordings from the London and Warner Bros. years entitled Chrome, Smoke & BBQ was released. In 2004, ZZ Top was inducted into the Rock and Roll Hall of Fame. They have the distinction of being among a very small group of bands with a 30-year-plus history that still has all of its original members. As of 2006, it is reported that ZZ Top is recording their 15th studio album. A 2007 European tour was cancelled due to health problems of Dusty Hill which Hill said would not keep them off the road for long.


Other Appearances.
Gibbons played the first slide guitar lead on the song "Dead End Streets" on Al Jourgensen of Ministry's side project Revolting Cocks album Cocked and Loaded. He also wrote, played guitar, and sang the song "Willin' For Satisfaction" from Def Leppard guitarist Vivian Campbell's 2005 solo album Two Sides Of If."

Gibbons collaborated with the Queens of the Stone Age on the song "Burn the Witch" from the album Lullabies to Paralyze. ZZ Top's "Precious and Grace" was also recorded with lead vocals provided by Mark Lanegan as a bonus track for the album. Gibbons has also claimed this was one of his favorite collaborations and "Precious and Grace" was later added back into ZZ Top's set lists. Gibbons was also supposed to guest the follow-up album Era Vulgaris but was unable to due to scheduling conflicts.

Together with The Raconteurs Gibbons performed at the 2006 MTV Video Music Awards. Gibbons was part of an ensemble chosen to play with the band, which included Lou Reed and Jim Jarmusch. The performance was heavily edited and cut short by MTV for broadcast. However, the full unedited performance is available on MTV's Website for the VMAs. Although not a full-length performance, Gibbons can also be heard playing a few bars of the ZZ Top classic "La Grange."

Gibbons was one of several artists to participate together with BB King on the song "Tired Of Your Jive," from the B.B. King & Friends album. Gibbons also appeared on Nickelback's album All the Right Reasons on the songs "Follow You Home," "Fight for All the Wrong Reasons" and "Rockstar."

Gibbons performed with country legend Hank Williams's grandson Hank Williams III on the song "Trashville," from his album Lovesick, Broke and Driftin'.

Gibbons also collaborated with the original designer of his favorite guitar "Miss Pearly Gates" Lester William Polsfuss aka Les Paul with his Les Paul & Friends American Made, World Played track "Bad Case of Loving You." Gibbons also performed guitar with John Mayall & Friends' track "Put It Right Back" from the album Along for the Ride.

Gibbons was also a guest vocalist on Kid Rock's "Hillbilly Stomp" from the album Kid Rock.

Gibbons was also the guitarist during singer Luis Fonsi's presentation at the 7th Latin Grammy awards held in Madison Square Garden, New York, on November 2, 2006. Lately Gibbons also sang background vocals on former Van Halen frontman Sammy Hagar's 2008 CD Cosmic Universal Fashion during the song "Switch on the Light."

Billy appeared on Bones in the first, second, and fourth seasons, portraying Angela Montenegro's father. His first appearance was when he came to visit Angela, who was being quarantined for Christmas; the second was when she was supposed to get married to Jack Hodgins. When Hodgins goes to ask for his blessing to marry Angela, he says simply: "Hodgins, I've got cars, and I've got guitars and I've got guns. You treat my little girl right and you'll only see the business end of the cars and guitars" (IMDB). He walked Angela down the aisle to "Gimme All Your Lovin'" (played by a harpist with a tape-recorded background), and the young couple left the church to "Gimme All Your Lovin'" (the traditional version), both by ZZ Top. In the fourth season of Bones, he appears for "revenge" on Hodgins after Angela and Roxy break up and she has a one-night stand with Hodgins. He accomplishes his revenge by kidnapping Hodgins and leaving him alone in the Texan desert with a new tattoo of Angela's face, under which is written "Angela Forever".


Guitars!!
Gibbons tunes his stage guitars to E standard tuning when doing live performances. For his studio work, he sometimes detunes his guitar to a D, C, B and sometimes even to an A. For his slide work Gibbons often uses Open E or Open A tuning. Gibbons' equipment has varied considerably throughout his career, always in the service of maintaining his signature sound.

~ 1959 sunburst Gibson Les Paul - Nicknamed Miss Pearly Gates.
~ Gibson Les Paul - A close copy of Miss Pearly Gates, used on live performances.
~ 1958 Gibson Les Paul - Used on "Just Got Paid".Set up with heavier strings and higher action for slide.
~ Gibson "Goldtop" Les Paul - John Bolin custom, with three control knobs, no pickup selector and pinstriping.
~ Gibson 1958 Korina Flying V - Bought off the street for 300 dollars by Gibbons.
~ Gibson Custom with Texas shaped body - Used during the Worldwide Texas Tour.
~ Gretsch Custom - Built for Bo Diddley later donated to Gibbons, never used live.
~ Gretsch Jupiter Thunderbird - A replica modeled after the Bo Diddley custom guitar.
~ Custom Jupiter Thunderbird Bigsby - A custom built Jupiter fitted with a Bigsby vibrato.
~ Custom Reversed Jupiter Thunderbird - A custom made model of the Jupiter but with a reversed body.
~ John Bolin Billy Gibbons Super Model - Telecaster style body with two hollowed out compartments which contain one cigarette in the middle and one 'handrolled' in the neck compartment.
~ Custom Telecaster - With rubber top, allowing Gibbons to stab it with knives during live performances.
~ Fender Esquire (aka "Bones") - Equipped with Seymour Duncan stacked bridge humbucker to replicate the sound of his Miss Pearly Gates.
~ James Trussart Steelcaster - Telecaster-style guitar with steel body and "Rust-O-Matic" finish.
~ John Bolin Crazy Cowboy - White semi-hollowbody guitar.
~ Dean Explorer - Called the Fuzzy Explorer because of it being covered in fuzzy fur.
~ Dean Shrimpfork Explorer - Red finish.
~ 1951 Fender Esquire - Used during the recording of Eliminator.
~ 1956 Fender Stratocaster - With sunburst finish used for overdubs on Rio Grande Mud.
~ 1955 Fender Stratocaster - Hardtail version with maple neck used on Tres Hombres.
~ 1959 Fender Stratocaster - Maple neck used on Fandango.
~ Fender Stratocaster - Pink finish, donated to Gibbons by Jimi Hendrix.
~ Custom-made Telecaster - This guitar is also made by John Bolin called "Big Tex"
~ Schoen Guitars Apache Dynamite - 5-stringed Cigar Box Guitar.
~ Gibson Melody Maker - Gibbons first guitar which he got at age 13.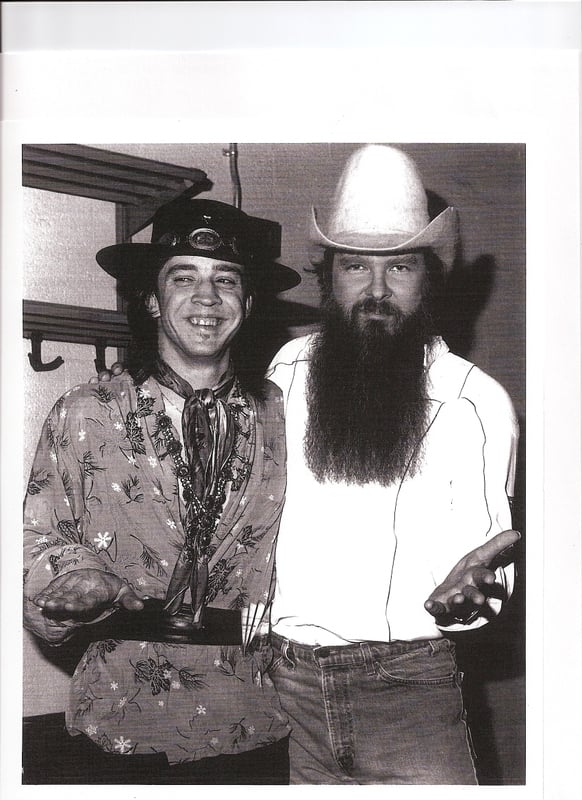 Two Texan Twangers!! Billy with Stevie Ray Vaughan.


Discography
~ ZZ Top's First Album (1971)
~ Rio Grande Mud (1972)
~ Tres Hombres (1973)
~ Fandango! (1975)
~ Tejas (1977)
~ Degüello (1979)
~ El Loco (1981)
~ Eliminator (1983)
~ Afterburner (1985)
~ Recycler (1990)
~ Antenna (1994)
~ Rhythmeen (1996)
~ XXX (1999)
~ Mescalero (2003)


Related Lessons
David Wallimann's ZZ Top Style Lesson.
David Wallimann's ZZ Top Box of Tricks Lesson.


--Sensible Jones 16:21, 26 May 2009 (CEST)