Carnivore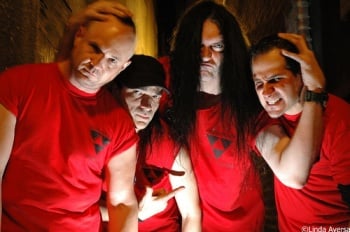 Carnivore was the second band formed by frontman Peter Steele of Type O Negative with the band Fallout being the first. Dubbed a thrash metal band back in the 80's they heavily drew a lot of their sound and inspiration from Judas Priest and Black Sabbath.
The band soon after broke up after only 2 albums but despite that fact they have contiuned to play together in a small tour in 1996 and reunited in 2006 at the Wacken Open Air festival.
Their latest reunion at Wacken Open Air in 2006 had Peter Steele quoting that there will be a new Carnivore album and tour in 2009.
Members
Original line-up
Peter Steele − Vocals, bass guitar (Type O Negative)
Louie Beato − Drums
Keith Alexander − Guitar (Primal Scream)
From Retaliation until split-up
Peter Steele − Vocals, Bass guitar
Louie Beato − Drums
Marc Piovanetti − Guitar, Vocals (Crumbsuckers)
2006 reunion line-up
Peter Steele − Vocals, Bass guitar (Type O Negative)
Paul Bento − Guitar (Metal Health Association)
Steve Tobin − Drums (Metal Health Association, Mike Orlando's Sonic Stomp, Dust to Dust)
Joey Z. − Guitar, Additional vocals (Life of Agony/Stereomud)
Albums
Videos
World Wars III And IV