Dave Murray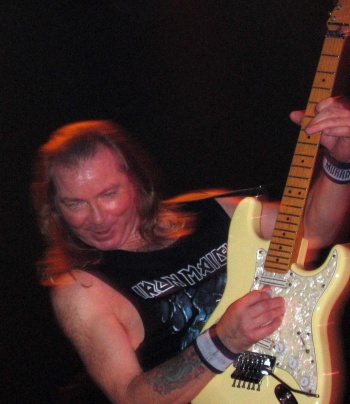 Introduction
David Michael Murray is an English guitarist, born on the 23rd of December of 1958 in Edmonton, London. He is best known for being part of the famous heavy metal band Iron Maiden since their beginnings back in 1975.
Early days
Born in a modest family which moved a lot, Dave Murray went trough many different schools in his early years. He got his first guitar at the age of 15, influenced by Jimi Hendrix, and he used to jamm along with his albums for hours every day.

His first band was called Stone Free, in which Adrian Smith also took part. Later down the road they'd be together again in Maiden. After going through different bands he finally joins bassist Steve Harris in 1976, as part of the legendary band Iron Maiden.
Iron Maiden
In the early Maiden days Dennis Wilcock was the vocalist. Due to an argument with him Dave eventually left the band along with Adrian to play in another formation called Urchin. It was a brief departure though, as Dave soon came back to Maiden, and vocalist Wilcock abandoned the band. From then on his career was bound to Maiden, and as part of them he delivered some of the most influential albums in the history of heavy metal.

Along with Steve Harris he is the only Maiden member that appears in every album of the band. And although he is an indisputable legend, word has it that he is a really kind & modest guy in person, something rare in the rock-star universe.
Style
Murray's style is heavily based on legato, with smooth, tasteful solos that linger in the memories of fans throughout the whole world. His combinations of hammer-on & pull offs, amazing rhythmic capabilities & harmonizations made for the trademark Maiden sound.
Murray's Gear
Dave Murray is best known for playing Fender Stratocasters with Floyd Rose whammys, maple necks and Seymour Duncan Hot Rail pickups (HSH). (Although he also endorsed ESP and Jackson for a few years).

He makes Marshall amps growl through 4x12 Marshall 1960B straight cabs featuring Celestion 12" G12T 75 Watt Speakers.

His rack consists of a Marshall 9200 Dual MonoBlock Power Amp, Marshall JFX-1 Multi-FX & Marshall JMP-1 Midi Preamp. As for pedals he uses a Rocktron Midimate Foot Controller.

Murray has his own Artist Series guitar, featuring a humbucker/single-coil/humbucker (HSH) configuration - DiMarzio Super Distortion DP100 (bridge), American Vintage '57/'62 (middle), DiMarzio PAF DP-103 (neck)
Related GMC Lessons
Dave Murray Style Metal Classic Lesson, by Hisham Al-Sanea
Iron Maiden Style Lesson 80s British Metal by Gabriel Leopardi
Iron Maiden Masterclass Heavy Metal by Gabriel Leopardi
Iron Maiden Style Metal, Hard rock by David Wallimann
Iron Maiden Style Lesson 2 80's Power Metal by Gabriel Leopardi
Discography
These are the albums he has released, all with Iron Maiden:

1980: Iron Maiden
1981: Killers
1982: The Number of the Beast
1983: Piece of Mind
1984: Powerslave
1986: Somewhere in Time
1988: Seventh Son of a Seventh Son
1990: No Prayer for the Dying
1992: Fear of the Dark
1995: The X Factor
1998: Virtual XI
2000: Brave New World
2003: Dance of Death
2006: A Matter of Life and Death

Videos

Originally by Fran