Gibson Les Paul Studio Review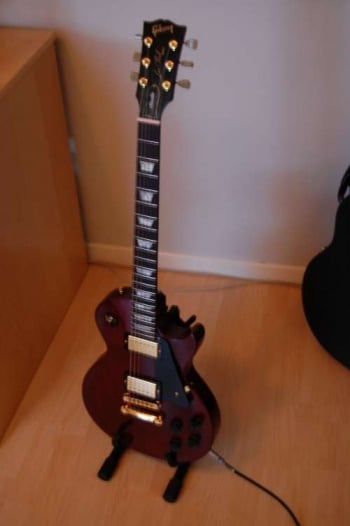 Information
Original author: I WILL Rock You
Weapon: Guitar

Make: Gibson

Model: Les Paul Studio

Price: 1,670 $ / 1,050 €

Introduction

Before you read keep in mind that this are only MY opinions and my thoughts about this guitar.

Now, A few weeks ago I bought a Gibson Les Paul Studio in wine red with gold hardware for 1,670 $ or 1,050 Euro. With the guitar I also got a Canadian manufactured Gibson hard case worth about 600 $ or 380 Euro.
Specs
Some interesting facts about the LP studio:
Carved maple top and mahogany back

Mahogany neck, '59 Rounded Les Paul

Rosewood fingerboard

Tune-o-matic bridge with stopbar

Chrome or gold hardware

490R and 498T Alnico 2 magnet humbucker pickups

2 volume and 2 tone knobs, 3-way switch

Feel
This guitar smells. Yeah and it smells really strong alright, you can barely pick it up before you can smell the strong yet soft and worm smell of mahogany. Sometimes I get serious flashbacks from the woodshop in school when i play it its really cool.

I had never heard how the les paul studio would sound like in real life, I had only heard it on the internet or on the TV but never in real time life. But i didnt bother to plug it in in the store.. I knew what I was buying and I their by I knew that I would be pleased with the sound. Bought the guitar, drove home, pluged it in and.....wow.
The thing is im 18 years old and I probably didnt understand what I was buying.. I totally underestimated the guitar and I think I still do For a beginner guitarplayer this guitar might seem just like an ordinary guitar from an ordinary manufacture. They just dont have the experience to understand what kind of holy piece of craftmanship they are dealing with. And I think that was the problem with me in the beginning though im not even a beginner guitarplayer... but still
And I think that's some of the beauty with this guitar to me, everyday you look at it standig in its rack just begging to be played on. And that's a view at least my eyes never gets tired of.
Cons
Don't get me wrong this aint the most perfect guitar in the world no no.. It has it's bad sides to as everything else has.

For example:
The back of the neck gets uneven after you played it a while from dryed sweat, dirt and that makes it to me atleast a bit difficult to slide up and down the neck but, some Teakoil and a rag does the trick!
Another thing is that sometimes when you play chords with distortion it sound muddy and its hard for the ear to hear all the tones, this ofcourse is due to the 490R and 498T humbucker pickups and I know that humbuckers aint the n1 choise for those who want that clean tone.
Next thing some may think is an advantage rather than a disadvantage and that only apply to the guitars with the goldhardware. After a while the gold on the bridge and the stopbar is going to fade away making the guitar look kinda like an old reissue guitar and to me this is definitely an advantage!
Advantages
About the guitars advantages I really dont have much to say that aint explained in the smelly text part of this review, the neck is perfect for med its the little thicker 50s neck yet pretty slim and fast sliding to me. Great great great sound from the 490R and 498T pickups i mean.. try it with maximum distortion just to feel and hear how fat and heavy this guitar actually can sound. Lower the gain to minimum and enyoy the sweet bluesy crunshsound, switch to clean channel and be stunded how your fat rockaxe just transformed to a jazzguitar
What im trying to say is.. With the 2 volume and 2 tone knobs, the 3 way swith, a decent amp you can get this baby to sound pretty much what you want it to sound like, its stunning really.
Conclusion
Just to wind things up a bit:

To me this is an incredible well made guitar that you really feel the history and love in it when you look at it and for that matter play it. So far I haven't found any flaws with it except for the ones mentioned above.

Sorry for any spellingerrors!