Janick Gers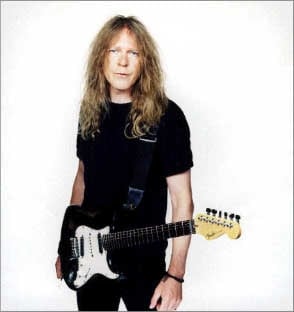 Introduction
Janick Robert Gers, born 27 January 1957, is an English guitarist, most famous for his role in the Heavy Metal band Iron Maiden. Before joining the Irons, Gers played with other bands such as White Spirit and Gillan.
Career
Janick Gers was the lead guitarist of White Spirit before joining Deep Purple's vocalist, Ian Gillan, on his homonymous band, Gillan.

Before ending up in Maiden, Janick had the chance to play with two of their vocalists: Paul Di'Anno and Bruce Dickinson. Paul was Maiden's first singer, and Gers played with him in his band Gogmagog. On the other hand Bruce Dickinson left Maiden for a few years to release a few solo albums, and Janick was his guitarist for "Tattooed Millionaire".

Iron Maiden guitarist Adrian Smith left the band by the time, and Janick Gers took his place. It was 1990, and Janick still remains as part of Maiden today, even after Adrian Smith returned in 1999. Since then Maiden has three amazing guitarists: Dave Murray , Adrian Smith and Janick Gers
Style
Gers is lefthanded, but learnt to play guitar right handed. Unlike Murray and Smith, who rely heavily on legato, Gers' likes staccato better, and his solos are more direct and raw sounding. He likes to make cool moves and tricks with his guitar on stage, while he plays aggressive riffs and licks at fast speed.

All in all there are many who consider Gers style a great addition to Maiden, bringing a new grittier guitar sound to their 90s albums, and making a nice contrast with Murray and Smith's classic riffs.

Ritchie Blackmore, Rory Gallagher and Jeff Beck stand out among his main influences.
Gear
Janick uses Fender Stratocaster guitars, usually black or white, equipped with Seymour Duncan Hot Rails or JB Jr. pickups. he also uses a semiacoustic Gibson Chet Atkins for certain songs.

Marshall is his choice for amps, using a JMP-1 preamp with a 9200 poweramp.
Discography
Iron Maiden
1990: No Prayer for the Dying
1992: Fear of the Dark
1995: The X Factor
1998: Virtual XI
2000: Brave New World
2003: Dance of Death
2006: A Matter of Life and Death
2009: Flight 666
2010: The Final Frontier


Bruce Dickinson
1990: Tattooed Millionaire

White Spirit
1980: White Spirit

Gillan
1981: Double Trouble
1982: Magic

Gogmagog
1985: I Will Be There EP

Fish
1990: Vigil in a Wilderness of Mirrors

Ian Gillan
2006: Gillan's Inn