Journal 2010-05-06 Jimi Hendrix Meets John Frusciante Collab by Adrian Figallo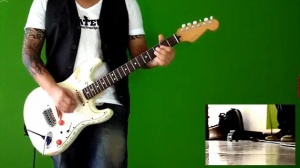 Jimi Hendrix Meets John Frusciante Collab by Adrian Figallo

We've got our first collab by Adrian Figallo ready, based on a mixture of styles of two awesome guitarists, Jimi Hendrix & John Frusciante (RHCP).
Our students found inspiration in Adrian's lesson, which you can watch here

The original backing track plays good with E pentatonic and E Blues scale, wah, whammy bars and cool effects. Just like Jimi would have played!


And finally, these are the seven members that took part (Adrian included!), along with the Final Mix


1st take – JamesT
2nd take – gitarrrero
3rd take – Berglmir
4th take – kaznie
5th take – noskill
6th take - Dennizzz119
7th take - Adrian Figallo

Great job guys!