Robert Johnson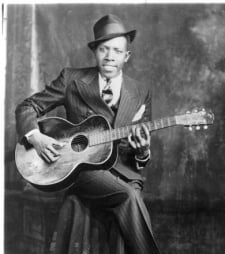 Foreword
To do a true portrait of the legendary Robert Johnson is a nearly impossible task, since his story is highly influented by rumours, tales and stories by people who actually never met him. His importance in the music history is rather as a source of inspiration for artists like Muddy Waters, Elmore James, The Rolling Stones, Jimi Hendrix, Eric Clapton, Led Zeppelin and others, than being a recognized artist on his own (in his own time).
He was almost unknown until the beginning of the 60's when the first/only LP was released, although some enthusiasts were collecting his recordings from 1936-37. The most pretentious work about his life was made by John P. Hammond (son of blues artist John Hammond), which resulted in a splendid documentary movie "The Search for Robert Johnson". (ed.note)
Introduction
Robert Johnson is most famous in the history of music by contributing with songs like "Sweet Home Chicago", "Dust my Broom", "Cross Road Blues" and "Love in Vain". He has also been known to the general public through films like "Crossroads" and "Can't You Hear the Wind Howl?". He is considered as one of the founders of the "Delta Blues", and is known to be the one who sold his soul to the Devil in the "Devil Legend".
Early Life
Robert Johnson was born in Hazlehurst, Mississippi, probably on May 8, 1911 or 1912. He was the son of Julia Dodds and Noah Johnson, even though Julia was married with an afro-american landowner (Charles Dodds) that was driven away by a lynch-mob due to a dispute with a white landowner. He was later sent to Memphis by Julia to stay with Dodds, but returned to his mother in about 1919, then living in the neighbourhood in the area around Tunica and Robinsonville, Missisippi.
Very little is known about Roberts early life, even though he was said to be playing the harmonica and the jew-harp by one school mate. He had a nick-name, "Little Robert Dusty", and he attended school during the years 1924-27. He was probably doing well at school, since his signature on his first marriage certificate shows that he had some proper education. After school he changed his surname to "Johnson", although he was registered in school as "Spencer" - the new surname Dodds took when he moved to Memphis.
Getting into music
The blues musician Son House, who lived in Robinsonville with his music associate Willie Brown, remembered that Robert used to pester them with questions and was trying to imitate their performances. (Son House was earlier imprisoned for killing a man in a fight and been released around 1929, he was then "rediscovered" in the 60's and most of his records are from that time. He is also known to be playing with the bottleneck. ed.note.) It's also said that Robert practiced in a graveyard under guideance of the obscure bluesman Ike Zinneman, and when he went back to the juke joints and parties where his role models played, they were simply amazed by his talent as a singer/guitarist. He surely was influented by Son House, but also Skip James and Charley Patton must have been a source of inspiration. Another source of inspiration at that time was Lonnie Johnson, who was playing with recording artists such as Bessie Smith, Louis Armstrong and his Hot Five and Duke Ellington. (he was one the first guitar player's that played single string solo's ed.note.)
The Delta blues
Robert was one of the "Delta Blues" singers, a musical style developed in the area between Memphis in the north and Vicksburgh in the south (USA). The area is famous for its fertile land, and a lot of slaves were working there before the abortion of slavery. The "Delta Blues" were a mix of field hollers, chants, fiddle tunes and religious music that were played and sung on guitar, not seldom with a bottleneck. Muddy Waters and Howlin' Wolf were two musicians that grew up in the Delta, but later moved to Chicago - forming the style which was to be known as the "Chicago Blues".
Cruel world
When Robert was 19, he married Virginia Travis (who was 16) and was supposed to live a "regular" life. He was planning for their coming child and had a regular work. When Virginia died in childbirth (along with the baby) in April 1930, Johnson was devastated. He returned to playing music, and was later reported to have married an older woman in order to get financial support. (for guitar lessons he may have taken with Zimmerman) He never stayed long with a woman for the rest of his short life (except for Estella Coleman, who was a 15 year older woman, whose son Robert Junior Lockwood, he was a father figure for), and the incident may have influented him strongly both personally and musically -wise.
Johnson on the road
Musicians at that time had to spend several hours on the road to make a living. Travelling by jumping on freight trains, was the usual way for Robert and his fellow musicians. Robert played at house parties, juke joints, and lumber camps and even on the street when necessary to make a living. He was playing mostly around Missisippi and Tennessee area, but travelled so far as N.Y, Chicago and Canada. Johnny Shines, a fellow musician that travelled with Johnson for some time (in 1935) has stated: "Robert had a certain strategy when he attended a new Town, he tried to find a woman as quick as possible in order to have somewhere to stay instead of paying for a room, not seldom with already married women." He was also telling that when Robert drank, which he did on occasion, he was "noisy" and "violent". Shines was travelling with Robert for a while, and they separated later, not due to any conflicts, rather that their gigs were at different locations.
Robert and the Devil
The legend about a musician selling his soul to the devil and in return getting super-natural gifts in music, appeared even before Robert Johnson. This may have been due to the religious people that associated the Blues with the devil, since it was played in small illegal joints along with alcohol and an obscure living. The first appearence in recorded music was by Clara Smith - "Done Sold My Soul To The Devil (And My Heart's Done Turned To Stone)" in 1924. The legend has then developed over time, and Robert has been a front-figure as long as the legend developed.
According to the legend Robert sold his soul to the Devil when he was 19, and in return got his talent. The devil then gave Robert just 8 years more to live before he was supposed to join the devil in hell. Robert wrote about the devil in some of his lyrics, which is not so strange, since people at that time tended to be religious - and to sing about the devil was kind of "forbidden" and was appealing to those who were "sinful".
Robert shall have met the devil in a crossroad near Dockery Plantation at midnight in the form of a tall black man. However, the exact location is disputable, and both Clarksdale and Memphis has tourist attractions that claims to be the "real" crossroad. The movie from 1986, entitled just "Crossroads" is further developing the legend, and features Steve Vai as the devil himself in a battle with the good. (in form of a guitar battle) Robert wrote a song entitled "Crossroad Blues" and the similar legend can be found in the history of guitarist Tommy Johnson, often referred to as beeing the origin.
The recordings
Robert only did two recording sessions in his life. The first took place at hotel Gunter in San Antonio, where the small company ARC (later to be owned by Colombia Records) had put up their record equipment temporarily. The recording took place in November 23, 1936 in San Antonio, and was a result of Robert's contacts with H.C Speir, a merchantile shop owner who was doubling as talent-scout and helped a lot of blues musicians from the delta to get in touch with the record companys. Amongst the songs recorded were "Kind Hearted Woman", "I Believe I'll Dust My Broom", "Sweet Home Chicago", "Crossroad Blues" and "Terraplane Blues". The latter was the only one back then that had any success, and sold about 5.000 copies in´the local areas.
Roberts second recording session took place in Dallas, Texas in June 1937, where ARC records again had put up a temporary studio at a warehouse (Brunswick Record Building, 508 Park Avenue) The songs recorded were "Stones In My Passway", "Me And The Devil", "Hellhound On My Trail" amongst some others. The following year 11 songs were released from the session that lasted for 2 day's. His records was published as "Race Records" on the label Vocalion. (a term for music performed by non-white ethnical groups, that was marketed towards the same. ed.note)
Robert's Death
A lot of rumours and different theories have been published about Robert's death, including that he was stabbed by a jealous husband, a woman stabbed him and that he was poisoned, which is considered to be the most thruthful. According to this theory, Robert shall have been poisoned by a jealous husband with strychnine in a bottle of whisky, and died three days later. Others mean that it was the bar-owner, whose wife Robert got involved with, while others mean that it was a woman who actually did the poisoning. Robert died on August 16, 1938 near Greenwood, Mississippi and were burried in Greenwood. The exact location is disputable, and both Colombia Records and SONY Records have memory plaques, but on different locations. Others say that he was buried under a tree outside the town, but no one has ever found his grave.
Other points of interest
The 27 club
Robert Johnson is a member of the inofficial "27 club", which contains musicians that died at the age of 27. The list includes Jimi Hendrix, Jim Morrison, Janis Joplin, Brian Jones amongst others. It is rumoured that Kurt Cobain took his own life in order to be present in the club. (he also died at 27)
Impact on music
His importance in the history of music before 1961, is considered to be of no value, except for that Muddy Waters and Howlin' Wolf may have been influented by him. In 1961 was his recordings re-released and some of the artists at that time picked up the album and later referred to him as an influence. His recordings did not ever sell good, but a re-release of the album from 1961 has been made in recent years.
The lyrics of Robert Johnson
Robert wrote lyrics of the life itself, how he lived and what he experienced, like women, bars, but also about betrayal, impotence(!) and infidelity. The devil is however present in as much as 6 songs. His lyrics often has a theme or tells a story, something that fascinated and inspired Bob Dylan.
Style
Robert played acoustic with - for that time - a stunning technique, and used his fingers on the right hand and played not seldom with bottleneck, which is a trademark in the Delta blues style. He had a strong rhytmic approach for that time, most blues musicians were playing in a more "floating" tempo style. He's been called "the Grandfather of Rock'n'Roll". He has posthumous been voted as one of the hundred best guitarists of all times and his style has influented generations of blues players since the 60's.
Sound/Video
Discography
There is only one album released with Robert Johnson entitled "King of the Delta Blues Singers" from 1961. (which covers all the recordings originally made) The album that influenced the decade's entire blues revival. A 1990 reissue on CD as The Complete Recordings includes every known Johnson track in existence, photos and notes.
See also
Encyclopedia Brittanica
Robert Johnson Blues Foundation
Robert Johnson on All that jazz