Heavy Metal
Heavy Metal

Metal is a genre of rock music that started in the 1960s and 70s, with the invention of the electric guitar. It was strongly influenced by the blues influenced rock bands of the 60s, like The Rolling Stones. Metal is characterized by its thick, large sound, using amplified distorted guitars.
Metal was started by Black Sabbath - who started in 1968. They were the first to write scary, heavy music, and others soon followed. Some of the early metal bands from the 70s were Deep Purple, Led Zeppelin and Iron Maiden. Thrash metal followed in the 80s wth bands like Metallica, Slayer, Megadeth and Anthrax. The 80s was also the birth of Motley Crue, and Glam Metal.
Since the mid 90s, Nu Metal has dominated the metal scene, with bands like Avenged Sevenfold, Trivium, Bullet for My Valentine and Killswitch Engage. Lots of other metal styles have been created, such as; Death metal, Black Metal, Power Metal, Speed Metal and Progressive Metal, though these are the less mainstream sub-genres of metal.
History
Heavy Metal is maybe one of the most diverse Genres of music that exists today. From droning guitar sounds to classic riffs of the 60's and 70's Metal is one of the most evolved and still evolving forms of music today. Heavy Metal's roots can be traced back to the late 60's early 70's with the era of Classic Rock. It started off as heavily blues inspired. The transformation occurred slowly as Rock got pushed to the extreme, with distorted guitars, faster drums, more aggressive singing and an overall louder feeling the beast that would become Heavy Metal began to emerge. Some of the first metal bands to get great notice are many which still stand as great pillars in music today. Bands like Led Zeppelin, Black Sabbath, Cream, Jimi Hendrix, Mountain and Deep purple. From there Metal expanded into many different Categories which are still heavily disputed today. The early 70's lead to bands like Judas Priest, Iron Maiden, Alice Cooper, Van Halen, Def Leppard, Guns'n'Roses, The Scorpions and Motorhead. From here we see the beginnings of the thrash metal genre. Kill Em All is questionably the godfather album of thrash metal, being metallica's first release lead to many other great thrash albums and to bands like Megadeth, Anthrax, Slayer, Testament, Sepultura, and many others...
The limited was still being pushed into the early 80's when a culture of Heavy Metal really began to form, bands such as Blind Guardian, Dream Theater, Rush, Helloween, Symphony X pushed the progressive limits of Metal opening the doors wide open for thousands of bands to join the culture and create there own sound. Today within Heavy Metal there are Hundreds of classifications within the genre. These lines are sometimes hard to define and end up causing many arguments between people.
A few of the classifications which fall under Heavy metal could include Progressive Metal, Death Metal, Hardcore, Thrash Metal, Trash Metal, Grunge, Punk, Shock Rock, Glam Metal, Drone Metal, Doom metal, Black Metal,Power Metal, Speed Metal, Industrial, Instrumental, Viking Metal, Pirate Metal,Symphonic Metal,Troll Metal, Pop Metal, Hard Rock, Groove Metal,Nu metal, Stoner Metal,Hair metal,Melodic Death, Folk Metal,
Sound
The heavy metal sound is defined by many many characteristics. Starting at its roots are the most obvious. Heavy Metal is loud! This sound is created by all tube amplifiers, heavy overdrive, and volume nobs turned to 10 (or in spinal taps case.. 11

). The louder the better. This sound is complimented by distortion. Many bands can be identified simply by their guitar sounds. Earlier metal typically uses lighter, grungier distortion more over driven. More modern bands use heavier distortions, many Death Metal bands use distortion to the point that notes are not even really noticeable. The two guitarists is a feature of metal that was introduced by early bands such as Def Leppard. The idea of harmonized guitars is a technique almost exclusively used in Heavy Metal.
Lyrical Themes
Metal's lyrical themes are often to do with sex, violence and the occult. Themes do differ between styles for example, a lot of Thrash Metal songs talked of death and aggression, whilst Power Metal commonly has fantastical themes. Many metal songs have used political issues as themes, for instance Black Sabbath's song "War Pigs", and Iron Maiden's song "2 Minutes To Midnight".
Culture
Metal is a very diverse culture. Metal itself is considered an "underground" music form, although very familiar to many the majority of Heavy metal is an underground scene.
Stereotypically people who listen to Heavy Metal and follow Heavy Metal culture have been given many names including -Moshers -Metal Heads (preferred by people like me) -Head Bangers -Goths(not usually true) -Emo Kids(not true either)

Heavy metal is usually heavily associated with Satan and devil worship but this is false. This is a reason why many people never dive into metal but it has been shown that many metal lyrics actually refer to politics, life issues, world issue, struggles, dragons or other important topics

.
Heavy Metal Fashion The truth about Heavy Metal is someone who follows the culture will dress how they want, will others allow to dress how they want and not discriminate. Metal Heads are sometimes hard to identify because they look just like everyone else.
Stereotypically a Metal Head is someone who can dress a number of ways Jeans/biker boots/jean jacket/bullet belt/long hair is the typical classic/thrash metal look.
Jeans / some sort of band t-shirt / long hair is a more modern metal look.. the jeans can be substituted for cargo pants (usually camo)
The goth look is also associated with metal. Big baggy black pants, or tight black pants (leather perhaps?). Trench coat or cloak, white face makeup/black lipstick or black nail polish.
A congregation of Metal Heads.. dressed in typical apparel.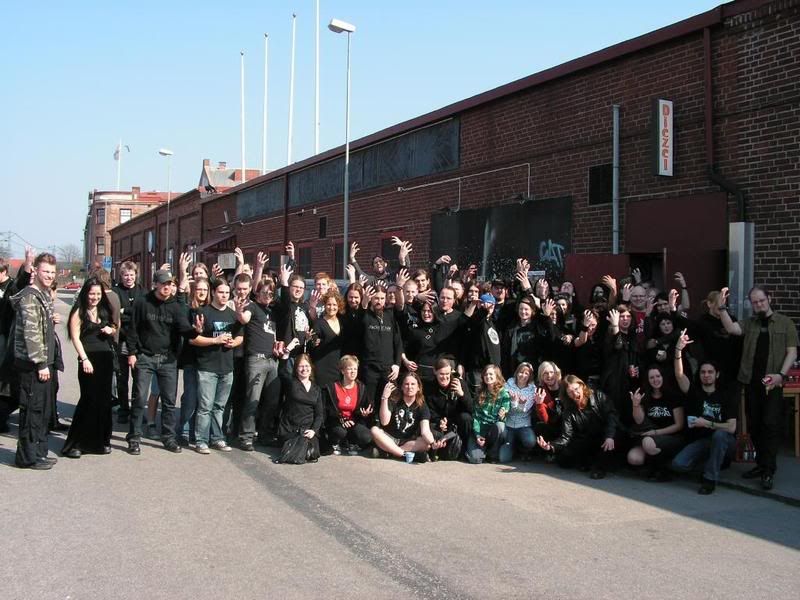 Many perceive metal heads to be violent/aggressive people. This is not the case, most metal heads are actually very friendly people who just like having a good time and banging their heads. Metal heads are comparable to hippies who wear black and enjoy aggressive music.
Time Line
Famous Bands
Creating a list of ALL Metal Bands has been a life long goal of mine, lets see if GMC has what it takes! Lets make the Book of Heavy Metal.
A:
The Acacia Strain, Agalloch, Alice Cooper, All Shall Perish, All that Remains, Amon Amarth, Amorphis, Anata, Anathema, Angra, Annihilator, Anthrax, Arch Enemy, As Blood Runs Black, Atreyu, August Burns Red, Avantasia, Ayreon.
B: Becoming The Archetype, Beneath the Massacre, Belphegor, Black Sabbath, The Berzerker, Between the Buried and Me, The Black Dahlia Murder, Black Label Society, Bleeding Through, Bless the Fallen, Blind Guardian, Bloodbath, Blood Simple, Born of Orisis, Brain Drill, Brendon Small, Before the Fall, Burn the Priest
C: Cadaveryne, Candle Mass, Cannibal Corpse, Cauldron, Cavalera Conspiracy, Cell Dweller, Celtic Frost, Children of Bodom, Chimaria, Chuck, Clutch, Cradle of Filth, Cryptopsy,
D: Dark Angel, Dark Tranquility, Dark Walk, Darkest Hour, Dawn of tears, Daylight Dies, Death, Daath, Decapitated, Demons and Wizards, Despised Icon, Dethklok, Devin Townsend Band, Devin Townsend, Diamond Head, Diecast, The Dillinger Escape Plan, Disfiguring the Goddess, Disturbed,Dragon Force, Dragon Lord, Dream Evil, Dream Theater, Drop Dead Gorgeous,Dying Fetus,Divine Heracy
E:(i know im pitiful) Edguy, Eluvium, Emmure, Entombed, Enslaved,
F: The Faceless, Faith no More, The Fall of Troy, Fear Factory, Final Plague, Finn Troll, Firewind, Five Finger Death Punch, Front Line Assembly, Full Blown Chaos
G: Goat Horn, Godsmack, Gojira, Guttural Secrete, Gwar, Gorod,
H: Hammer Fall, Hatesphere, High on Fire, Himsa,
I: I killed the Prom queen, Iced Earth, Immortal, Impellitteri, In Flames,Into Eternity, Ion Dissonance, The Irish Front, Iron Maiden,
J: Job for a Cowboy, John Petrucci, Jucifer, Judas Priest,
K: Katonia, Killswitch Engaged, Kreator, Krisiun, Kyuss,
L: Lamb of God, Life Ruiner, Light this City, Linken Park, Liquid Tension Experiment,
M: Machine Head, Malevolent Creation, Malice Mizer, Manowar, Mastadon, MegaDeth, Meliah Rage, Meshuggah, Metal Church, Metallica, Misery Index, Mnemic, Mors Principium Est, Motley Crue, Motorhead,Mudvayne, Municipal Waste, Mushroomhead
N: Necrophobic, Nevermore, Nightwish, Nile, Neptune,
O: Obituary, Opeth, overkill, Ozzy Osbourne
P: Pantera, Papa Roach, Paradise Lost, Parkway Drive, Paul Gilbert, Pelican, Primal Fear, Primordial, Prostitute Disfigurement, Psycroptic, Psyopus, Putrid Pile,
Q: Queensryche, Quo Vadis,
R: Rage Against the machine, Rise Against, Raintime, Rapture, Rhapsody Of Fire, Running wild,
S: Sacred Reich, Salt The Wounds, Scorpians, Sepultura, Shadows Fall,The Show, SikTh, Skindred, Sky eats Airplane, Slayer, Sleep Terror, Slipknot, Soilwork, Spawn of Possession, Static-x, Steve Vai, Strapping Young Lad, Suffocation, Suicide Silence, Symphony X, System of a Down,
T: Testament, A Textbook Tragedy, Therion, Threat Signal, Three Inches of Blood, Threshold, Through The Eyes Of The Dead, Throwdown, Tool,Toxic Holocaust, Traumatism, Trivium,
U: Unearth
V: Van Halen, Veil of Maya, Visceral Bleeding, Vital Remains,
W: Waking the Cadaver, WhiteChapel, Wintersun,
X: xAFBx
Y: Yngwie Malmsteen
Z: Zyklon, Zimmer's Hole
Metal Heads of GMC
Smikey2006,Yash
Related GMC Lessons
See also
https://www.guitarmasterclass.net/wiki/index.php/Death_Metal
https://www.guitarmasterclass.net/wiki/index.php/Thrash_Metal