Lemmy Kilminster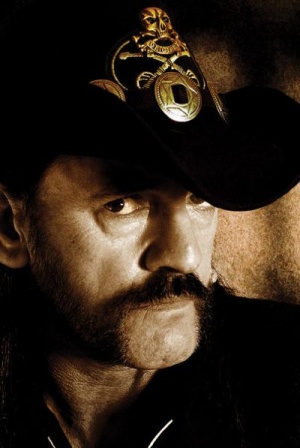 Short Bio
full name : Ian Fraser Kilmister
born : 24th December 1945

His nickname (although never confirmed), is thought to come from his friends, as he asked them to give him money ie "lemme have a fiver", Lemmy has claimed that it derived from his childhood and means nothing.
Lemmy is most famous for forming the British Heavy Metal Band Motorhead, he is the Bass player and singer for the band, and is probably one of the most well known Heavy Rock Musicians alive.
Career
Lemmy started off playing rhythm guitar in many various unknown bands, during 1967 he worked as a roadie for Jimi Hendrix before joining the legendary band Hawkwind.
Hawkwind
Lemmy joined Hawkwind in 1971 as a Bass player, Lemmy hadnt played the Bass much before, and developed his own style of playing that derived from his rythmn guitar technique often using chords as opposed to single notes, Lemmy`s sound formed the basis of Hawkwind and also sang lead vocals on various tracks, Hawkwinds biggest UK Hit Single was "Silver Machine" that features Lemmy on lead vocals.
After being arrested in Canada and spending five days in prison for drugs possesion charges Lemmy was fired from Hawkwind in 1975.
Motorhead
After being fired from Hawkwind Lemmy teamed up with guitarist Larry Wallis and drummer Lucas Fox, The band was originally called Ba*t**ds, but after being told that the name just wasnt suitable by his manager he changed the name to Motorhead, which was the name of the last song Lemmy wrote with Hawkwind.
The original line up of Motorhead was short lived, and has changed a few times in the bands 30 odd years history, however the music has remained pretty much true to its beginnings and Lemmy still remains as the Bassist/Singer for the band to date.
Other projects
Lemmy has worked with several different musicians over the years, noteably in 1991 when he was brought in as a songwriter for Ozzy Osbourne he wrote lyrics for various tracks including the hit single for Ozzy "Mama I`m coming Home"
He has appeared in various TV ads and had small cameo parts in films.
Gear
Rickenbacker 4001 and 4003 bass guitars, some modified with Gibson Thunderbird pickups in the neck position.
Amplification:Marshall amps, hot-rodded Marshall JMP Superbass IIs.each with an output of 100 watts, 4x12 speaker cabs and a custom-made 4x15 cab. Lemmy uses two stacks, one on each side of the drum riser. Lemmy has nicknamed his amps "Marsha" & "No remorse".
Lemmy`s catchphrase is "everything louder than everyone else" he plays at the loudest possible volumes and uses the neck pickup exclusively he turns all the tone and volume knobs on the guitar up full. On the amplifiers, he turns the bass and treble off, and the midrange up all the way, with the volume and presence up to the 3:00 position. His sound is slightly distorted due to these settings yet not too fuzzy and is ideally suited for his chord playing approach to the Bass.
In Heavy Metal terms (and many others in fact) Lemmy is a true Rock Legend!!
See also
For Discography visit the Motorhead page
--Smells 13:05, 15 January 2008 (UTC)