Marty Friedman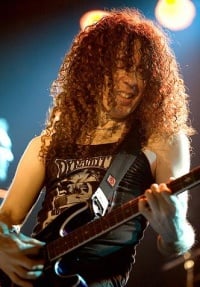 Introduction
Marty Friedman, born December 8, 1962, is an American Guitarist, known for having been the lead/rhythm guitarist of the Thrash Metal band Megadeth for ten years. Before joining forces with Megadeth, Friedman played with other bands such as Cacophony and Hawaii.
Career
Marty Friedman formed the band Hawaii back in 1982. It was a Heavy Metal/ Speed Metal band. Although Hawaii was one of the most notable bands from Honolulu, they only last 3 years.

One year after Hawaii broke up, Friedman joined forces with his friend Jason Becker, creating one of the most talented and influencial shredding duets, 'Cacophony'

Their first album, the predominatly instrumental Speed Metal Symphony, was a success unlike their second album Get Off!! that was a commercial failure. In 1989 Cacophony broke up with Jason joining David lee Roth and Marty ending up in Megadeth

In 1989, Friedman Auditioned for Megadeth. He was initially rejected by Dave Mustaine for having multicolored hair.
Finally, in February 1990, after undergoing what Dave Mustaine called "Rock School 101", Friedman officially joined Megadeth. Racking up sales of 10 million records with them, in January 14, 2000 Friedman left Megadeth, claiming that he got tired of playing metal music and felt that he couldn't develop as a musician.

Friedman currently lives in Shinjuku, Tokio, Japan. He has become one of the highest celebrities there, not only in music but also in television, appearing as a regular on 5 major networks. We can also see him on mainstream hit TV programs almost every day in Japan.
Style
Friedman is as largely self-taught guitarist, known for his exotic sounds and his great sense of improvisation. He is also a very versatile guitarist, going from music styles like neo-classical to thrash metal and j-pop. He's also got a very unique way of holding is guitar pick, making it hard for other players to duplicate his solos
Related GMC Lessons
Marty Friedman Scenes Era
Marty Friedman Style 2
Marty Friedman Style
Marty / Mustaine Style
Marty Friedman Tornado of Souls Solo
Megadeth Hangar 18
Cacophony Style
Hirojoshi Scale Lesson

Discography
Hawaii
1983: Made in Hawaii (EP) (as Vixen)
1983: One Nation Underground
1984: Loud, Wild and Heavy (EP)
1985: Native Are Restless


Cacophony
1987: Speed Metal Symphony
1988: Go Off!!


Megadeth
1990: Rust in Peace
1992: Countdown to Extinction
1994: Youthanasia
1997: Cryptic Writings
1999: Risk


Solo
1988: Dragon's Kiss
1992: Scenes
1995: Introduction
1996: True Obsessions
2002: Music For Speeding
2006: Loudspeaker
2007: Exhibit A Live in Europe
2007: Exhibit B Live in Japan
2008: Future Addict
2009: Tokyo Jukebox
2010: Bad D.N.A
2011: Tokio Jukebox 2

See Also